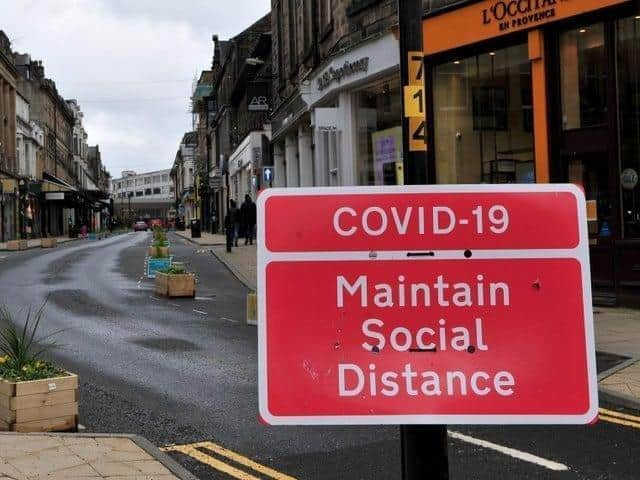 A 'small number' of cases of the Indian variant of Covid-19 have been discovered in North Yorkshire, it was confirmed today (19 May).
Louise Wallace, the county's director of public health, told a North Yorkshire Local Resilience Forum briefing today that cases of the B16172 variant had been identified, although she said she could not confirm how many or where.
The rise of the variant across large parts of England comes during the same week that indoor hospitality and household mixing have returned, and the government has warned its next review of social distancing rules may be delayed as a result.
Ms Wallace said North Yorkshire was still "well prepared" to deal with any variants of concern and that the advice to residents remained the same.
She said: "There have been a small number of cases of the Indian variant identified across North Yorkshire. As the public would expect, national Test and Trace and Public Health England have been working together to identify and follow up the cases and their contacts to minimise the risk of spread.
"Our public health advice remains the same whatever the variant of Covid-19 - continue with the basics of hands, face, space and fresh air, and meet people outside rather than inside as much as possible."
Earlier this week, health secretary Matt Hancock said there were 86 local authorities with five or more confirmed cases of the variant which scientists believe does spread more easily, although early data suggests vaccines still work.
Mr Hancock also said the variant was now the dominant strain of the virus in Bolton, Blackburn and Darwen, and was rising in all age groups.
Across Yorkshire, there were 31 variant cases confirmed up until 13 May, according to Public Health England figures.
Richard Webb, director of health and adult services at North Yorkshire County Council, told today's briefing that while infection rates remained low, the county should still expect some "turbulence" this summer as he urged people to take up their vaccine offer "to protect ourselves, our families and our communities."
He said: "There are new variants around the country and we do have isolated, small numbers of cases in this area. However, we don't have the situation that is being seen across the Pennines fortunately.
"The situation is a lot better than it has been for much of the last 15 months, however, we should all expect turbulence at various points. We should expect that there will be surges of new variants and we will expect to respond very quickly.
"We can never guarantee you will have complete protection against all potential future variants, however, the vaccine is the best opportunity each of us has to protect ourselves, our families and our communities."
It was also announced this week that the vaccination centres at the Great Yorkshire Showground in Harrogate and Ripon Racecourse will close in August - with other local pharmacy sites set to play a larger role in the rollout.
Clinical leaders believe pharmacies, along with regional vaccine hubs in Leeds and York, will provide more than enough capacity once every has received their first jab.
Dr Ian Dilley, GP partner at East Parade Surgery in Harrogate, said: "With the huge number of people now vaccinated in the local area, we feel August is an appropriate end date.
"We need to be mindful of the other pressures that will be placed on doctors' surgeries as we head towards autumn and winter, and the annual flu vaccine campaigns that GP practices need to provide."
The latest seven-day infection rate for North Yorkshire is 17 cases per 100,000 people - just below the England average of 21.
A breakdown of the figures shows Selby has a rate of 47.5, while Harrogate's stands at 18, Richmondshire 13, Scarborough 11, Hambleton 9.8, Craven 7 and Ryedale 1.8.
More than 467,000 people across North Yorkshire and York have now received their first vaccine and 274,000 their second.
By Jacob Webster, Local Democracy Reporter