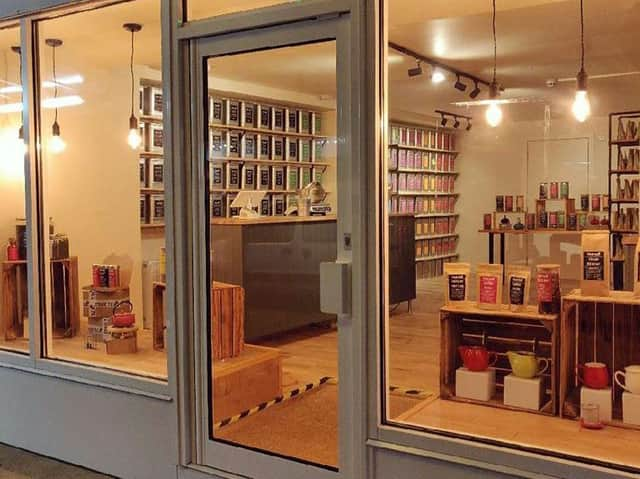 The front of the new shop in Harrogate town centre.
Having started as a subscription service in York in 2017, the True Tea Company has now launched its own tea speciality store in the hub of independent shopping in Harrogate on Commercial Street.
Located next to Stothards Pet Store at number eight Commercial Street, the shop prides itself on its hand-picked loose leaf teas - and a commitment to reducing the use of plastic.
True Tea Co founder Matthew Doust said: "In terms of environmental awareness, all of our packaging is biodegradable and customers are able to bring their own containers in return for discount.
"As well as loose leaf tea, we have a unique range of 20 teas in biodegradable tea bag form which are plastic free and packed with our loose leaf tea blends, ensuring a quality cup with an eco purpose."
True Tea Co's new store in Harrogate stocks an extensive range of tea which has been sourced from around the world and sought to appeal to customers who are as enthusiastic about tea as the firm's owner is.
It also boasts a range of more than 130 loose leaf tea blends in store which range from a classic english breakfast black tea all the way to a caramel rooibos tea.
Founder Matthew Doust said: " Whether it's a black, green or fruit tea, there's something for everyone.
"Prior to opening the Harrogate retail store, we predominantly focused on online retail.
"As we grew, we were lucky enough to be stocked by Michelin Starred Restaurants, local cafe's, bars, delis and hotels - such as the Talbot Hotel in Malton, North Yorkshire.
"With our commercial growth, we decided to move to the high street in order to interact with community whilst simultaneously managing online and wholesale orders."
Originally known as True Tea Club sending out different teas each month to subscribers across the globe, it became True Tea Co in 2018 on order to be more than a subscription service and to provide tea for retail and wholesale.
The opening of a Harrogate store follows many months attending monthly farmer's markets and local events such as Harrogate Flower Show, Malton Food & Drink Festival and more.
To help customers with their tea journey, the new Harrogate shop has a number of accessories in-store, such as infusers, loose leaf tea pots and iced tea bottles. Alongside this, everyday we provide free tasting for customers with our tea of the day.
Environmentally-aware, the True Tea Co decided to make a difference by creating a completely biodegradable tea bag range.
Free from plastic, the firm's pyramid tea bags are made from corn starch.
Its subscription service operates on the 20th of each month when True Tea Co sends out a selection of hand picked loose leaf teas.
The amount of tea varies from 40 to 80 cups of tea per month and members of the scheme can pause or cancel their membership at any time.