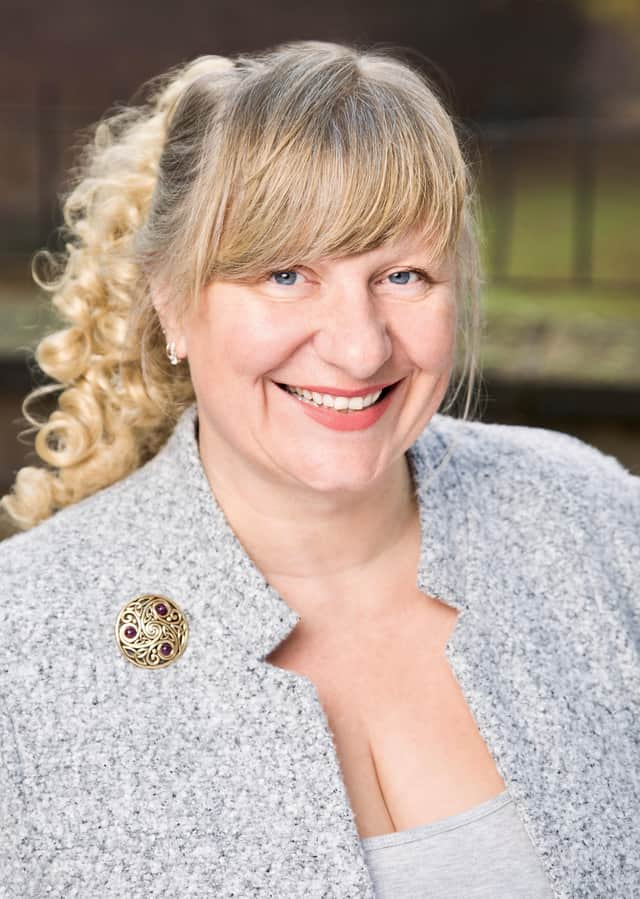 Anna Newport, founder of Newport Land and Law Limited, based at Nostell Priory. PHOTO: Nida Mozuraite.
"I am where my work is concerned. I am bloody good at this stuff," she says with typical bluntness.
"In my real life, no – I'm filled with doubt. I'm fearful about this interview, I worry that people don't like the look of me, or that I've not been a good mother to my children, and that my house is untidy and I'm not coming up to everybody else's standards. But I am that good at work – it's the one place where I've got absolute faith in myself."
Anna Newport is the founder of Newport Land and Law Limited, a "bricks and mortar, death and taxes" practice based at Nostell Priory, near Wakefield.
But the law wasn't her first career choice. She left school to become a journalist and trained at the Wakefield Express, but left after a few years, disenchanted with the lifestyle.
"I was shallow and self-absorbed and thought I was going to be a reporter, striding into The Times and changing the world, but I think I was just a young fool.
"At the time it was a hard-drinking, hard-smoking, very masculine culture. It wasn't what I thought it would be. But then, I missed the point entirely – that what I wanted to be was a writer."
That dream has come true, albeit via a different route. She now contributes articles to legal journals and also writes the conveyancing courses for the Law Society.
"I'm really proud of that. It's validation, isn't it?" she says.
Being able to type, she became a legal secretary after a friend who did the job said it paid well. She then impressed her employer so much that the firm paid for her to study law at university. She had, finally, found her calling.
"I'm at home in the law," says Ms Newport. "It has everything – history, creativity, example, morals, complete lack of morals sometimes. It has a complete story to it. We're taught [in journalism] from the early days 'where's the story?', and it's all over the place in law.
"Like the slightly horrific, slightly comedic R v Brown, which is about whether you can consent to having your testicles nailed to a table – you've got everything. It's like a soap opera.
"It appeals to the storyteller and the historian in me – to the desire to create something. I don't think law is seen as being a creative profession, but for me it is."
Eventually, though, the demands of the job took their toll and she left to forge her own path.
"I was suffering towards the end of my employed time," she says. "Not because people were cruel to me – they weren't. But I was exhausted. Wrung out. I'd got young children, a busy, responsible job, and it had taken everything that I'd got to give, and I had no resilience. I'm a strong and capable girl, but…
"I worked with some lovely people, but it's not about the people – it's about the climate, the expectations. We're an old profession – a thousand years we've been doing this in this country – and I sometimes think we haven't come on since the Magna Carta."
The answer, she decided, was to set up her own practice, where she could work as she wanted, in a culture of her own making.
"I thought, 'well, if we're going to have a firm – what is it I want as a lawyer?'. I want to do good work, I want to be happy, I want to be flexible, I want to get paid what I deserve."
She also wanted to give her employees a less pressurised workplace than many of her rivals were offering.
"I sound really sanctimonious – Saint Anna! – but it was really important to me that people are happy and safe at work.
"That's a massive thing in our industry: fear. Fear of the partners, of not putting in enough billable hours, not eating at the right restaurants, not wearing the right clothes, being found wanting. It's a culture of shame.
"If you make a mistake – because you're a human being and not a machine (and I've made three belters in my career, all of which I've put right) – you can feel bad, but you shouldn't feel ashamed of yourself."
The dress code is relaxed – "I expect people to get a wash and be well-presented" – because, says Ms Newport, the work should speak for itself, not the clothing.
And then there's the humour. It crops up time and again in conversation, and her out-of-office messages are legendary. Even the company website warns: "It's important to us that we deliver our advice with a sprinkling of (sometimes borderline appropriate) humour. Clients who love this come back time and again. Clients who don't, don't – and that's okay by everyone."
That has put off fewer people than Ms Newport thought it would, and the firm has never been busier.
"In the last four weeks I have opened a third more files than I opened in my whole first year. It's incredible," she says.
The company doesn't advertise and has spread its reach via word of mouth as far as the Isle of Wight, Cornwall, Cumbria and Northumberland. Ms Newport is now planning to formalise that growth by expanding the company nationally, setting up regional 'pods' of no more than 150 people, "because that's the size of a Neolithic tribe – the amount of people that human beings can reasonably know".
It's a big, broad vision, explained by an unusual level of ambition. But what explains the ambition?
"I don't know where it comes from," says Ms Newport. "There was no severe childhood poverty and I wasn't an outcast anywhere – there's no story there. It's just there, like a roaring flame."
Who is to doubt she'll achieve her goals? After all, even though she works practically within walking distance of her old school, she's already come a long way. In addition to running her firm and writing legal courses, she's helping to develop the solicitors' equivalent of Trustpilot.
"I came from a normal family. We didn't have solicitors – everybody was in trade," she says. "This is more than I could have hoped for. I wake up and think how lucky I am to have the opportunities I've had. And I still love it, every day."
Anna Newport was born in Portsmouth and spent her childhood in Alwoodley, north Leeds.
She then moved to Pontefract and went to boarding school in Derby, followed by the sixth form in Hemsworth.
She says she "resonates" more with Pontefract and the Five Towns than with Alwoodley, because "that's where I lived during my formative years, when I became me".
On leaving school she became a journalist, writing for the Wakefield Express, but left the industry after a few years, entering the legal sector in 1992.
She started as a legal secretary but was put through law school by her employer, and qualified as a solicitor in 2008.
She set up Newport Land and Law in March 2017 and moved the firm to its current premises on the historic Nostell Priory estate in February this year.