IN THE COMPANY OF: Angela Brown, founder of Meteoric Marketing, whose pet hate is people with egos the size of York Minster
Angela Brown speaks to the Harrogate Advertiser about her company Meteoric Marketing
Thursday, 24th June 2021, 4:37 pm
Updated
Thursday, 24th June 2021, 4:38 pm
Q: In a nutshell, what does your company do, and how did it start?
A: We're a virtual marketing team working with B2B companies in the region to help them grow their profile and engage with their target buyers.
Q: What's the most surprising thing about it?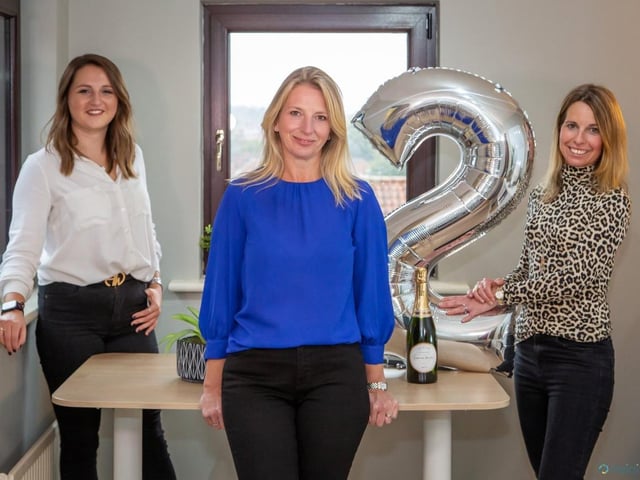 Angela Brown, founder of Meteoric Marketing, centre.
A: I'd never really thought of myself as an 'entrepreneur' or 'businesswoman' or even an employer (and being honest, the thought of it scared me silly to begin with!), but here I am.
If I look back, it's a little like doing your tax return; the thought of it is much scarier than the reality of actually doing it!
A: We have a team of employees and trusted freelancers, and together we help clients plan their marketing then roll up our sleeves to help them deliver it.
Our clients are usually the founders and CEOs of small and medium-sized businesses, and it's our goal to make their lives as easy as possible. That means we'll not only manage websites, write articles, design social media and help generate press coverage but, importantly, we'll then 'hit the button' and post content for them on platforms such as LinkedIn. 
Q: How did you end up here?
A: My marketing career began almost by acci-dent – I started temping as a PA at Merrill Lynch for the head of the press office when I was 20 and still wondering what to do with my life!
I was enthusiastic, said yes to every opportunity and was fortunate to work in a team that encouraged you and let you learn on the job.
I'm very lucky that I've had the chance to live and work overseas; I went to the US with Merrill, and then in my 15 years as a marketer at PwC, we spent three years as a family in the Middle East.
I'd toyed with the idea of setting up my own business about 10 years ago, but we had young children, and the time wasn't right. But the seed had been planted in my thoughts and wouldn't go away, so a couple of years ago I decided to take the plunge.
A: I love being in a pair of wellies and being outside with nature, so I imagine I might be planting trees and doing something that gives nature a helping hand to recover from the thrashing we humans give it.
I'm interested in agri-tech and how we can embrace technology to build back richness into the environment. Maybe that will be my second career!
A: We've worked with several of our clients for over a year, some for two. We feel invested in their success and I love seeing what comes from the marketing investment they've made, and how the outcome has helped their business grow and develop. 
Q: What do you wish you had known when you started out in business?
A: That the first year is challenging – being a business owner can be a lonely place and it's OK to cut yourself some slack.
I wish I'd networked sooner with other business-owners. It's one of the reasons I became an ambassador for the Institute of Directors – I believe a support network of people who know how it feels and have been there before, is a massive help.
Sometimes you don't need someone to solve the problem for you; you want to know it's normal to feel this way. That's enough to put a spring back in your step.
Q: What excites you about business?
A: I get a lot of inspiration from our clients – every day is a school day. I love that variety!
Seeing how clients grow their business and live their values makes me feel proud, too. For example, two clients, Hatmill and Consult Red, have recently transferred ownership of their business to their employees. That's pretty powerful stuff.
Q: What is your pet hate in business?
A: People with egos the size of York Minster. It's why we tend to work with clients that are a bit like us, down-to-earth and pragmatic, with no airs and graces!
Q: What advice would you give to people just starting their careers?
A: It's never too early to start your network or start a pension! Invest in them, manage them, and in time they'll pay you back ten-fold.
Say yes to things and don't be afraid to try different things. It's OK not to have a plan. And don't worry that you're not as confident as the next person – often they're as anxious as you, but might just be better at hiding it!
Q: Who in business do you most admire, and why?
A: I'm not one for putting business leaders on a pedestal. The likes of Richard Branson are touted as role models, but the story of their success is airbrushed and sets an unrealistic bench-
Instead, look around at the thousands of business-owners in areas like retail and hospitality, keeping it together and staying strong for their staff in tough times. 
Q: What moments of your career so far stand out?
A: Twenty years ago, I moved to New York with Merrill Lynch, which was pretty special for a girl with no degree from a sleepy Yorkshire village!
Now, I still have to pinch myself when we win a new client or employ a new member of staff – the feeling of building something bigger than just you is awesome.
Q: What sets your company apart from the competition?
A: The way we invest ourselves in our clients, embed ourselves in their organisation and just roll up our sleeves to get 'stuff' done.
Q: What is the most difficult challenge your company has faced? And what challenges are you experiencing at the moment?
A: Getting started was hard; there were a few moments I had a crisis of confidence. But as Bon Jovi would say, you've got to 'keep the faith' – you never know what's around the corner.
Last year was tough, wondering whether there might be a business left at all. But I'm one of the lucky ones – our virtual marketing proposition stuck a chord, and we're growing the business, so I guess the challenge now is managing growth.
Q: Have you got a five-year plan for the company?
A: I'm not a massive fan of business plans! I think they can sometimes drive the wrong behaviours and, as we now know, life changes so quickly they can quickly become redundant.
Instead, I've got a vision that in 10 years I have some flexibility in my options – that might be to hand control or even sell the business to the team or work part-time and put more of myself into planting trees or a second career – who knows!
Our approach is centred firmly on sustainable growth – I'm in it for the marathon, not the sprint.
Q: Why is it good to do business from Ripon?
A: I feel really torn talking about Ripon; it's like this undiscovered gem you want to shout about, but then you don't want everyone knowing about it either!
From a business perspective, the super-fast broadband is a must. We're also ideally located between new investment areas such as the Treasury North in Darlington, Teesside Freeport and the UK Infrastructure Bank in Leeds, which we think will create a lot of opportunity for us and for Ripon in the future.
Birthplace: Leeds, Yorkshire
Founder and marketing director