Review: Huge Wagyu burgers and tasty cocktails at Harrogate's Solita Foodhall
Harrogate was thriving last night as I ventured out for my first post-lockdown meal of the year.
Friday, 23rd April 2021, 11:41 am
Harrogate residents saddened as 'beautiful' mural on Bilton bridge defaced by vandals
It has been a long time since I have been out for dinner and I have to admit it was a bit of a struggle - I have got a little bit too used to lockdown life after months of takeaways on the sofa.
Digging underneath the masses of joggers and hoodies in my wardrobe, which I've been living in now for about a year, I finally uncovered something suitable for the outside world, and then remembered that I needed tights, boots and a big, fluffy coat - dining al fresco might be lovely but as soon as the sun drops you'll be thankful for your layers!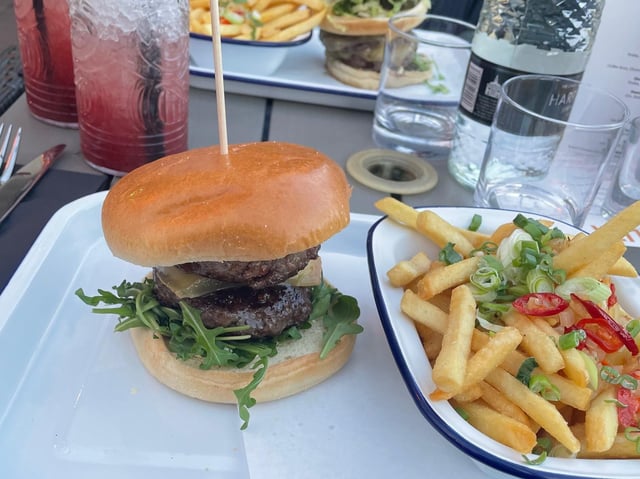 The 'Chalet Girl' burger at Solita Foodhall in Harrogate.
Solita Foodhall, one of Harrogate's newest additions, sits on Parliament Street and offers a gorgeous roof terrace, with views out onto the Ginnel and over the town rooftops. It does have outdoor heaters which is a nice touch, but let's be honest, it's still only April, so my advice would definitely be to wrap up - it's always better to be prepared.
The restaurant, which also has branches in Manchester, Didsbury, York, Hull and Beverley, is known for its prime Wagyu burgers and modern takes on classic BBQ foods.
There is also a wide range of starters and sides, with everything from halloumi fries and cheeseburger spring rolls (I know it sounds weird but trust me these are a must-try) to Chinese style salt and pepper chips and chicken wings.
Faced with an extra large menu we were a bit overwhelmed - it has been six months since we last ate at a restaurant after all - but Emily, the floor manager, was all too happy to help us and gave some incredible recommendations.
The 'Big Manc' Waygu burger a Solita Foodhall.
We went for a sharing starter platter so we could try a little bit of everything - this is heaven for all deep-fried lovers - which included mac and cheese balls, halloumi fries, cheeseburger spring rolls, frickles and chicken wings of your choice - we opted for bacon and cheese.
On Emily's recommendation I ordered the 'Chalet Girl' burger, which was topped with raclette cheese and truffle mayo, with a side of salt and pepper chips. You can get your burger with either chicken or beef, but the brand is most well-known for its amazing cuts of Wagyu.
Solita's signature burger, the Big Manc, is a 16oz, four patty monster - so of course my boyfriend went for that one.
The 'Solita' cocktail, made with raspberry vodka.
In celebration of making our al fresco debut we made the most of the expansive cocktail menu - I would highly recommend the Solita, a long cocktail with raspberry vodka, and the Pornstar Martini if you like your drinks sweet and fruity.
The terrace was busy with a great atmosphere and the staff were lovely - especially Emily, who made our night so special. Nothing was too much trouble and she was more than happy to get us anything we needed, even if it was just to chat about the food, and all with a smile on her face.
One thing I have to say is the portions are HUGE. We went in there starving and we couldn't even finish the starter, let alone the main. I'm sure the fact that most of it was deep fried didn't help, but we did bring home a very large doggy bag and I'm already excited about round two this evening - this time in my joggers!
When lockdown restrictions lift further and indoor hospitality returns, Solita will offer a range of different options to choose from inside, including charcuterie and a pizza bar. It sits across two floors and is filled with comfy, leather seating and a really laid back, trendy vibe.
Part of the sharing starter platter at Solita Foodhall.
I'm already excited to go back and try the rest of the menu and I can see why it has been so popular in other areas and made its debut in Harrogate.
If you're looking for somewhere to go this weekend with gorgeous views, good cocktails and big portions of tasty food, I'd highly recommend checking out Solita Foodhall.
More of the sharing starter platter.
Enjoying a Pornstar Martini on the Solita rooftop terrace.