Knaresborough man expresses gratitude for 'unbelievable generosity' as he sets off on final trip to Ukraine to deliver two emergency vehicles
A Knaresborough man embarking on his ninth and final journey delivering two fire engines to the city of Volodymyr, in north-west Ukraine, said he "can't wait to see their faces" and expressed his endless gratitude for the "unbelievable generosity of the Yorkshire people".
Watch more of our videos on Shots! 
and live on Freeview channel 276
Visit Shots! now
The Advertiser has followed retired lorry driver Bob Frendt, 72, throughout his nine trips to Ukraine.
Since the Russian invasion in February of last year, Mr Frendt has delivered eight truckloads of crucial aid, helping to meet the needs of residents and liaising with the city's mayor.
His most recent success fronting a twin-town project saw Knaresborough merge with Volodymyr.
The bond will be made official with Knaresborough councillor David Goode, accompanying Mr Frendt for the trip and final signing of the contractual relationship.
Mr Frendt was previously "blown away" as his most ambitious fundraiser turned from one vehicle into two - a donation made by the rescue engine manufacturer, Angloco.
Mr Frendt said: "It's been hard this last week as we ran into hidden costs.
"The fire engine we were given needed work on it.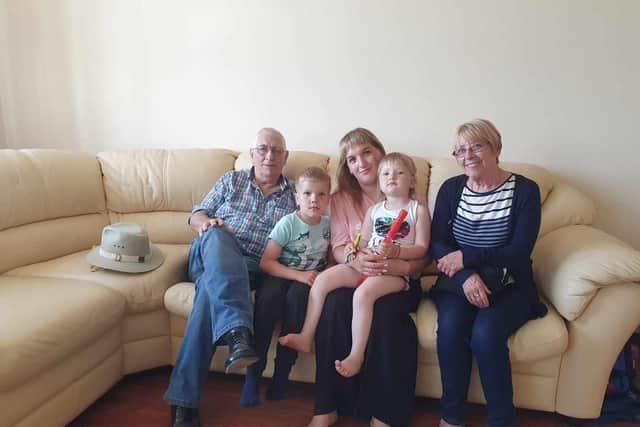 "At the very final minute we managed to get it done.
"I'd like to say a shout out to Bush Tyres - Flacksby, who really pulled out all the stops.
"Me and Moreen are going, and Councillor David Goode, who will finalise the official twinning between the towns.
"Also a friend of mine, Phil Shovlin, who has stepped in to drive the second engine."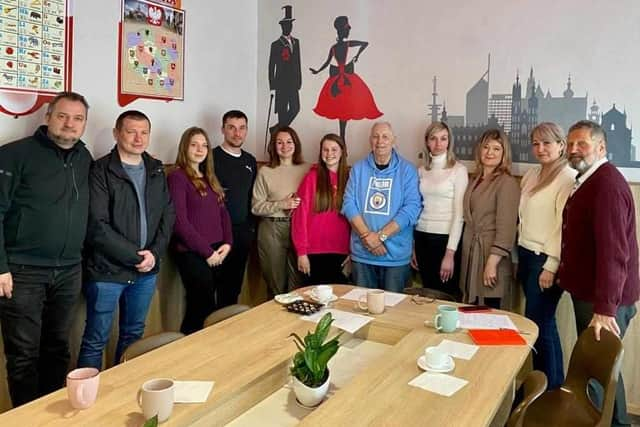 Mr Frendt's eighth journey revealed his friend Oxsanna and her two children living on the sixth floor of a building, with no emergency vehicle to protect them from potential strikes.
Despite having been urged to slow down for his health, remarkably he has pushed on without stopping until his final mission is complete.
Mr Frendt said: "I'm really looking forward to seeing Oxsanna because she's the reason we are going really.
"She was the one who told us if we didn't get one and there was a fire, she and her two children would die.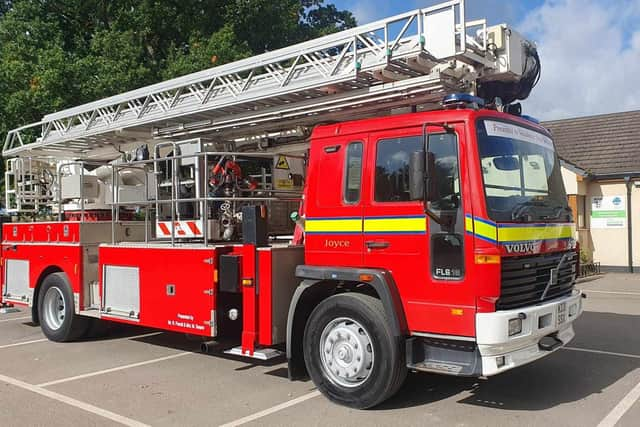 "I couldn't walk away from that, how could I?
"I'm quite happy now, knowing they will be safer.
"Should anything happen I know they'd be able to get out.
"The ladder is 32 metres long, so it will reach the sixth floor of the block of flats.
"It's a specialist piece of kit as when it was new it cost £250k.
"Also, Angloco, who let me have it at a big discount, were amazing.
"They even got the second for me for free, which was an incredible surprise."
On their arrival, Coun Goode will sign the official documents with the Mayor of Volodymyr, alongside a celebration expressing the town's gratitude.
Mr Frendt said: "This promotes joint cultural, educational, sporting and commercial travel plans that will help to support progress.
"Knaresborough has been twinned with Bamburgh in Germany for the last 50 years.
"Nothing is going to happen until the war is over, as people can't get out of the country.
"We are hoping to get a charity football match organised, the women already ready to come over and play.
"They will be gobsmacked when they see the engines, I can't wait to see their faces.
"They've got nothing like.
"We are all just so pleased, it's been incredible really."