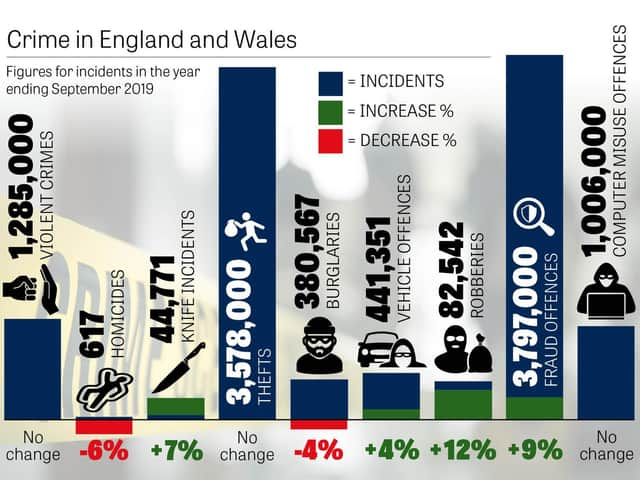 Office for National Statistics - Crime in England and Wales for the year ending September 2019.
Two of the rivals for the position have looked ahead and said no to any possible merger of North Yorkshire Police with West Yorkshire, South Yorkshire and Humberside Police as part of he creation of a 'One Yorkshire' mayor.
But, at the moment, the focus of the current North Yorkshire Police, Fire and Crime Commissioner Julia , who will stand down this year, is on growing crime levels in the county.
Reacting to new figures from the Office for National Statistics on Crime in England and Wales: year ending September 2019 which show a general rise in crime in North Yorkshire, she said: "North Yorkshire remains the safest place in England and I want to thank the hard-working police officers and staff whose dedication and commitment ensures that continues to be the case.
"Nevertheless, we are continuing to see higher than average increases in crimes being recorded across the county."
Ms Mulligan said the statistics were worrying and she would be pressing North Yorkshire's chief constable to reassure her the right plans were in place to deal with it.
She said: "There are different reasons for this – our continued focus on improving how offences are recorded inevitably means percentage increases can look dramatic.
"This is important though because we can only fight crime in the right places and the right ways by knowing the problem we are facing. North Yorkshire Police is getting much better at that, but there is always more to do.
"This does not account for all the increase though, and it is important we all recognise that. "Any rise is concerning, and I will be asking the Chief Constable to ensure she is confident her plans address the challenges we are facing.
"I am particularly concerned about the rise in violent crime as this is the sort of offence which causes huge worry in communities across North Yorkshire."
Election day for the office of North Yorkshire Police, Fire and Crime Commissioner takes place on May 7.
Conservative candidate Philip Allott and independent Keith Tordoff MBE, say they would oppose any police merger as the build-up begins to election day on May 7.
Mr Allott said plans to create an elected mayor for the different Yorkshire Counties known as 'One Yorkshire' should not be used as an opportunity to merge North Yorkshire Police with West Yorkshire, South Yorkshire and Humberside Police.
Mr Allott, who was educated at King James' School in Knaresborough, said he met with The Policing Minister Kit Malthouse last Wednesday to argue the case for retaining the existing composition following media speculation.
Keith Tordoff MBE, who was a Leeds-based police officer in the 1970s and 80s, said: "I personally support the proposal to create the post of an elected Mayor for the different Yorkshire counties known as ' One Yorkshire.'
"It can only benefit the status, reputation and economy of this great county."
The current chair of Nidderdale Chamber of Trade, Mr Tordoff added: "I strongly believe it is important North Yorkshire Police retains its own identity whilst looking to collaborate and share resources."