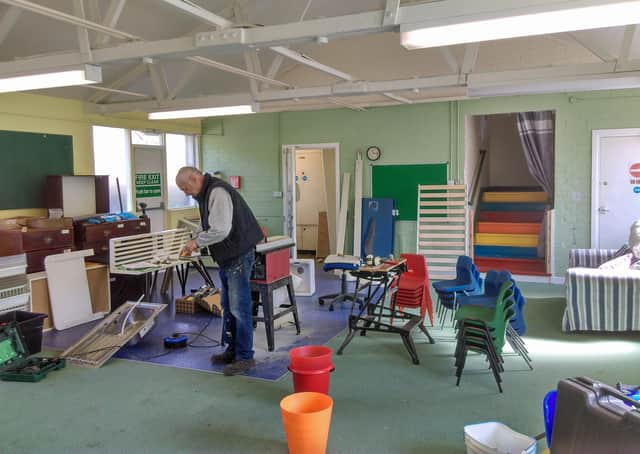 Nidderdale and Pateley Bridge Men's Shed has started work bringing up to scratch, three rented NYCC buildings, behind St Cuthbert's School in Pateley Bridge, and is open to members on Fridays from 9.30am-1pm.
Alan Cottrill, Project Coordinator and Trustee, said: "A key driver of the group is providing a renewed sense of purpose and belonging among men who have retired or are experiencing redundancy or who, for some other reason, are not currently employed.
"Men typically find it more difficult to build social connections than women, and rarely share personal concerns and worries.
"It is said that women talk face to face while men talk shoulder to shoulder."
And living in a rural place like Nidderdale, although beautiful, can bring with it increased challenges.
"In Nidderdale rural isolation can also be a major problem especially for men who have been used to working on the land on local farms or estates and no longer have a sense of purpose or fulfilment," added Alan, who said the group also welcome women.
"Many such men face loneliness and/or isolation and the Pateley Shed aims to overcome this."
It will provide a multi-purpose workshop and outdoors projects, where men can socialise and work, either individually or in teams to construct things and at the same time make new friendships and develop support groups.
Nidderdale group is part of the Men's Shed movement.
The Pateley Bridge group also hopes to work with local organisations such as the Britain in Bloom group and Nidderdale AONB.
Work has already started to bring the former nursery buildings up to scratch, clearing of pathways and outside areas, repainting the exterior and the installation of a new electricity consumer unit.
Alan added: "There is still much work to be done.
"We have also acquired an assortment of tools, some donated, some purchased.
"Obviously this all costs money and has so far been financed by subscriptions from the current five members and by grants.
"Although Covid restrictions limit our activities we are anxious to welcome new members and any help that they may be able to give.
"It may be called the Men's Shed and there are advantages to be had in being a member of that organisation, but women are equally welcome."
To join Nidderdale Men's Shed, go to the facebook page or contact Alan Cottrill at: [email protected]