Upper Nidderdale Women's Institute claims champion title in Rose Bowl Cup
Upper Nidderdale Women's Institute (WI) won the ASPDIN Rose Bowl Cup at Pateley Show on Sunday, September 24, establishing it as competition champions with an impressive set of domestic skills.
Watch more of our videos on Shots! 
and live on Freeview channel 276
Visit Shots! now
This year, the traditional Rose Bowl Cup took the theme of "A walk in Nidderdale".
Nidderdale WIs each exhibited seven items that showcased their practical skills, such as artistry, baking or needle work.
Founded in 1915 in Wales, the WI is a nationwide organisation originally based on providing women with the skills needed to produce food during rations brought on by WWI.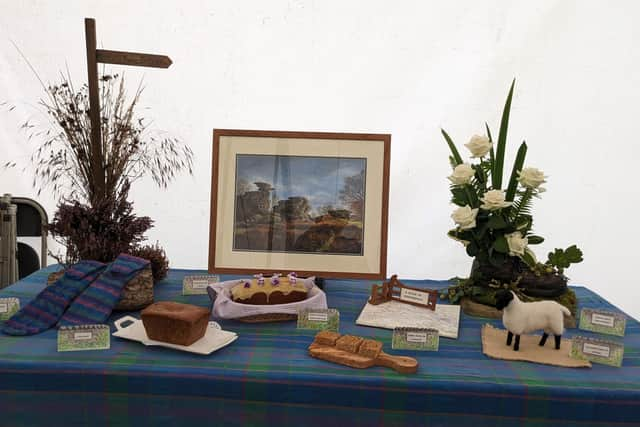 WIs nationwide have since developed a reputation for revitalising rural communities, breaking down stereotypes and empowering women with ideals of fellowship.
Lucy Tiffany, president of Upper Nidderdale WI, said:v"They were very important in helping people to produce their own food during struggling times.
"The older generation will know about jam and Jerusalem.
"They used to teach people how to bottle fruit or pick rosehips when there were no oranges for vitamin C during the war.
"It was all very educational and practical to start off with."
Although recent years have shown some institutes have lost popularity, Mrs Tiffany spoke about revival in modern times.
She said: "Times have changed and WIs are looking to appeal to younger generations.
"I understand lifestyle changes but it's still important to get together.
"Young people are so busy. It is hard for them, but we are here to help.
"We can organise anything from environmental themes to discussing new ideas, blend the old with the new.
"It's about more than equal opportunities for women, it's about community.
"It's also a great place to socialise, or ask for help.
"These days people can become isolated."
With more than a century of inspiring women, the WI movement has been instrumental in achieving positive change for women and for society.
Upper Nidderdale looks to a positive future.
She said: "We've just had our 95th birthday
"We had a jolly at Hebden's old school tearooms.
"We're now pushing on strong towards our 100th birthday."