26 Harrogate ladies walk 26 miles to raise vital funds to help Saint Michael's Hospice and Candlelighters charity bounce back after Covid pandemic
A group of friends from Harrogate are walking 26.2 miles to raise essential funds for two local charities, Saint Michaels Hospice and Candlelighters.
Thursday, 24th June 2021, 4:55 pm
Updated
Thursday, 24th June 2021, 4:59 pm
The 26 Harrogate-based ladies have decided to do something about the charity crisis caused by the pandemic by raising some all-important funds and making sure specialist care can continue for those who need it.
Together with the support of local businesses, friends and family the ladies have smashed their fundraising target of £6,000, raising £8,000 so far and hoping to raise more ahead of their challenge on Sunday, July 4.
Each mile is sponsored by local businesses such as GH Brooks, Prestige Valeting, Raymond James, Loadstone Limited and Montpellier Jewellers.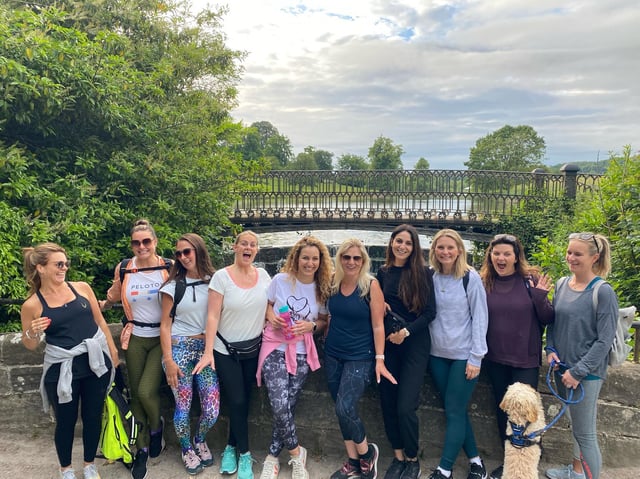 26 ladies from Harrogate will be walking a marathon on Sunday, July 4 to raise money for Saint Michael's Hospice and Candelighters charities.
The group will be undertaking the challenge, walking from Beckwithshaw to Ripley and back, on Sunday, July 4.
Cleo Tasker, one of the 26, has a touching personal reason for getting involved - her son Ralph was diagnosed with cancer and has been supported by the Candlelighters charity.
She said: "From the moment my son was diagnosed at age 6 with T-Cell Lymphoma, the team at Candlelighters stepped in and made the nightmare somehow bearable. Through their never-ending presence on the ward and in the day clinic we had support through all three and a half years of gruelling chemotherapy.
Despite blistered feet and feeling tired, the women are determined to take on the challenge of walking 26 miles to raise the much-needed funds.
"Chemo for Ralph didn't stop for Christmas or birthdays or a pandemic, nor did the support that the Candlelighters team offer on a day-to-day basis. It is so important that the support families receive during such an extraordinarily difficult time can continue."
The event organiser, Charlotte, added: "Our plan was to walk the distance of a marathon to raise £6,000 and we are over the moon that our amazing team of 26 ladies have helped exceed our fundraising expectations with some wonderful supporters who have helped us reach our fundraising target so far. We've done loads of training so far with at least one big walk a week, including one at 16 miles."
Despite the blistered feet, the ladies are excited to complete the marathon walk and are urging anyone who can help to donate to the cause.
Visit: uk.virginmoneygiving.com/HeartSoleGirlsMarathonWalk to donate and follow their progress on Instagram at @heartsoleharrogate