'Returned home to Nidderdale': Lord Mayor of Bradford unveils magnificent 110-year-old model of Angram Reservoir
​​The Lord Mayor of Bradford has paid a visit to Pateley Bridge to unveil a scale model of Angram Reservoir crafted by the stonemasons responsible for the construction of the dam over a century ago.
Watch more of our videos on Shots! 
and live on Freeview channel 276
Visit Shots! now
The model was donated to Nidderdale Museum by the Drummond family, who rescued the stone model built by their grandfather and great grandfather, which now sits on display outside Nidderdale Museum.
Many stonemasons were employed to build the reservoir, and one of them, Robert Drummond, created the scale model of Angram during his spare time, working with his son Duncan.
Joyce Dixon, granddaughter of Duncan Drummond, said: "We are pleased that the Museum was able to accept the model and the carving has finally returned to its home in Nidderdale.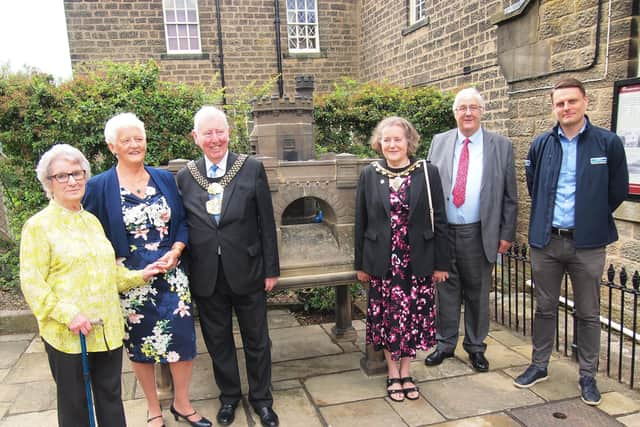 "The whole family are so proud to share and celebrate it."
"I know that my grandfather and his father would be overwhelmed.
"We hope that lots of people will come to see the monument and visit the Museum."
The model was finished in 1913, and the Reservoir was opened in 1919.
Angram reservoir was one of three built in Nidderdale between 1896 and 1936 by Bradford Corporation Waterworks Department, who also built a railway to transport people and equipment from Pateley Bridge to the three reservoirs – Gouthwaite, Angram and Scar House.
More than a thousand workers were involved in the construction work, with most of them living on site.
During this time accommodation was built which included electric power, communal buildings, a school and even a cinema. It was to the envy of the surrounding villages.
The system is still in operation today.
A spokesperson for the Museum said they were delighted to have brought the monument back to Nidderdale, with support from Yorkshire Water's Beyond Nature programme.
Sue Welch, Chairman of Nidderdale Museum, said: "It was fitting that the Lord Mayor of Bradford carried out the unveiling, as the project was carried out by Bradford Corporation Waterworks as water still flows from Angram Reservoir to the people of Bradford.
"It will stand as a testament to this amazing construction of the reservoirs at the top of Nidderdale built over a hundred years ago."