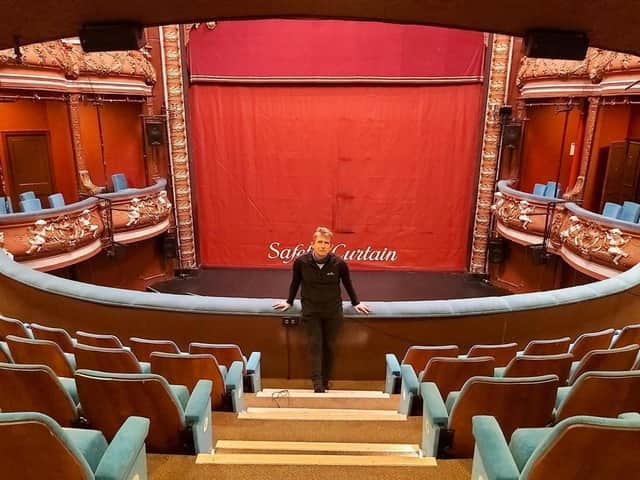 Harrogate Theatre's chief executive David Bown.
Cabinet members on Harrogate Borough Council - which owns the Grade II-listed building - yesterday agreed to support the project set to start on 3 May when a huge temporary structure will be erected over the entire building before the ageing roof is stripped back.
The council has already carried out fire safety works over the last year, and the project will also include repairs to windows, brickwork and guttering.
Speaking at a meeting yesterday, Jonathan Dunk, executive officer for major projects at the council, said it was "likely" that workers would become aware of the need for further repairs once the roof is removed and that costs could overrun.
"This is a significant investment in Harrogate Theatre which is a key asset that supports the town and will contribute to the council's economic recovery plan," he said.
"Like any construction project, particularly on a building of this age and complexity, there is a risk of programme and cost overrun. We have done all the correct work and will continue to engage with all parties and take the right professional advice to understand these risks.
"We will bring a further report back to cabinet on 21 July when we have more detail on the condition of the roof and impact on cost."
Due to the disruption the works will cause, the theatre will need to close for the duration of the project which is scheduled for completion at the end of September.
But David Bown, chief executive of the theatre trust, said it still plans to host shows at other venues in summer, possibly including the town's Royal Hall, Harrogate Convention Centre and community centres.
He previously said: "We are extremely excited to be reconnecting with our audiences out in the community, whilst the theatre is being much improved and made safer for our return.
"We are working closely with Harrogate Borough Council to minimise disruption and relocate events where possible and we look forward to hosting live events back at the theatre as soon as we can."
The theatre has remained closed throughout the Covid outbreak, with Mr Bown previously warning that it had become unviable while social distancing measures are in place.
It has received almost £650,000 in government grants and also raised more than £100,000 during a fundraising appeal to help it survive the pandemic.
Speaking at yesterday's meeting, councillor Stanley Lumley, the council's cabinet member for culture, tourism and sport, said: "Any district or town is judged by its cultural offer.
"We have a wonderful theatre, museums and art galleries. These, along with the superb Harrogate International Festivals, the Harrogate district has an excellent reputation that we need to support and protect."
Harrogate Theatre was built in 1900 and has a seating capacity of 500. The trust that runs it also operates Harrogate's Royal Hall concert venue.
By Jacob Webster, Local Democracy Reporter