Project to protect Fountains Abbey and Studley Royal shows progress after 'devastating' damage caused by climate change
For two years an innovative natural flood management project has been working with nature to help protect the UNESCO World Heritage Site at Fountains Abbey and Studley Royal and the wider Skell Valley.
Watch more of our videos on Shots! 
and live on Freeview channel 276
Visit Shots! now
More frequent flooding combined with erosion and sediment in the river are being exacerbated by climate change, but nature-based solutions are being used to protect the heritage of the Skell Valley, which includes the abbey ruins and the water garden at its heart.
Part-funded by the The National Lottery Heritage Fund and European Regional Development Fund, the Skell Valley Project was set up to tackle this issue, delivering a series of interventions with a catchment-wide approach.
Working with private landowners and farmers on 20 sites up the valley, the Skell Valley Project's staff and volunteers have planted more than 10,000 trees, created seven new ponds, installed 20 leaky dams, and restored 2.2 kilometres of hedgerows since the project began.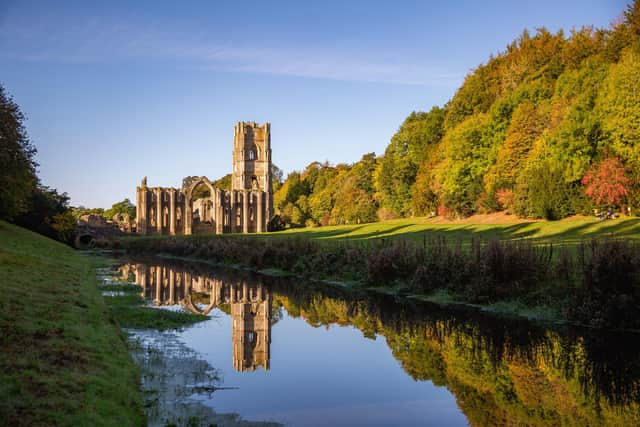 More than six kilometres of fencing have been installed to protect river banks and ditches from overgrazing and erosion, and nearly two kilometres of farm and forestry tracks have been surfaced to reduce the risk of erosion and sedimentation in the river.
Nabil Abbas, Skell Valley Project manager, said: "Working together with farmers and landowners upstream of Fountains Abbey, we've been able to install a series of natural flood measures in the River Skell catchment.
"By working with natural processes, we can slow the flow of water through the catchment.
"This means that we can reduce the risk of flooding down in the valley and reduce the amount of silt entering the river, which is important to protect both the wildlife living in the river and the heritage at Fountains Abbey and Studley Royal.
"While individual interventions such as hedgerow restoration or tree planting are relatively small, together they can make a real impact both in reducing flood risk and in recreating precious wildlife habitat."
The lead partners for the project, the National Trust and Nidderdale Area of Outstanding Natural Beauty (AONB), are working with farmers in the valley to map out opportunities for more natural flood management and habitat restoration work.
Michael Robinson, farmer at Low Green Farm, Grantley, said: "As livestock farmers it was evident to us that this was an initiative that deserved our full support.
"Over the last fifteen years we have seen, at first hand, the devastation brought about by climate change.
"Several of our farm buildings, that have stood for three-hundred years, are now collapsing as the swing between drought in the summer and the land being saturated in the winter has caused land-heave which has de-stabilised them.
"The concept that something similar downstream was happening at Fountains Abbey and Studley Royal was shocking.
"The Skelly Valley Project have taken the lead on planning, constructing and funding these projects, which would not have gone ahead without their involvement.
"A good example of this is our newly created farm pond and its associated tree and hedge planting.
"This has allowed us to learn about more sustainable farming methods from world-class experts and to implement these ideas on our own farm."