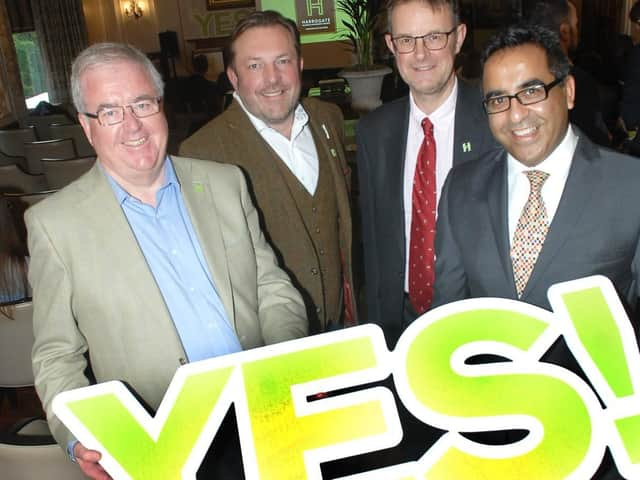 Harrogates BID team was set up in January this year after a successful campaign.
One of the stated aims of Independent Harrogate, which hass built up 170 traders in its membership since it was launched in the summer, is to work with Harrogate Business Improvement District and encourage it to be truly representative of local traders by including independent retail businesses on the BID board.
At the moment, Harrogate BIDs executive board which, in theory has £3.3 million of local traders' money to spend on town centre improvements via a levy over a five-year period, consists of national firms, local authorities and institutional groups.
With the ballot among BID levy payers having closed on Monday, Independent Harrogate told the Harrogate Advertiser it now hopes to see a significant change in the make-up of the board.
Exciting new Azuma trains for Harrogate soon​A spokesperson said: "Independent Harrogate are waiting to hear if Harrogate BID's recent election process will resolve the issue of there being no independent retailers on its board.
"IH is unsure of the detail of how the ballot has been conducted and they were told that successful applicants would be informed of the result on Tuesday."
The board election comes after a tricky opening ten months for Harrogate BID, which was launched after a ballot of town centre businesses at the end of last year.
But, after a slow first half of the year, BID can now boast a growing list of activities:
A new Harrogate Gift Card for Christmas featuring 75 shops and businesses;
Supporting a series of street entertainment events in the town centre to encourage footfall such as the he Christmas lights switch-on.
Sponsoring free journeys for shoppers on Harrogate Bus Company's fleet of electric buses travelling into town on Sundays.
Having taken more than six months to appoint a BID manager, it suffered a blow last month when its appointee, Elizabeth Murphy, decided to quit after only three months.
Many smaller traders continue to contact the Harrogate Advertiser to express their dissatisfaction with the overall progress on the core problems facing Harrogate's retail sector and what they see as their own lack of input into decision-making.
On its website, Independent Harrogate identifies the effective use of BID's £3.3m as an "opportunity" while raising the possibility of BID levy money being wasted as a "threat" to Harrogate's prospects.
In terms of the result of the ballot for the Harrogate BID board, it is believed the result will be announced at its annual general meeting at Hotel du Vin in Harrogate next Thursday.