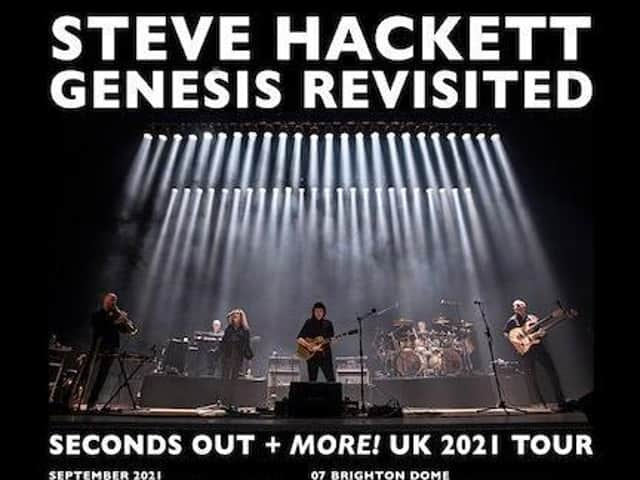 Former Genesis guitarist Steve Hackett now finds himself hailed as an influence by modern-day prog musicians such as Mars Volta and Porcupine Tree.
Steve Hackett now finds himself hailed as an influence by modern-day prog musicians such as Mars Volta and Steven Wilson of Porcupine Tree - not only for his work with Genesis between 1971 and 1977 but also his wide-ranging and impressive solo catalogue.
The London-born Steve, who is now 71, said: "It's great when you get compliments from people.
It's encouraging when guitarists from the jazz world or classical music say nice things about what you do.
Steve Hackett. (Picture by by Tina Korhonen)
"I know that Steven Wilson likes my solo albums and both he and Mars Volta have mentioned A Tower Struck Down from first solo album, Voyage of the Acolyte which they like because it's very "angular".
"When I recorded that album I was a mere 25. I'd be doing night time sessions and getting very little sleep.
"There was no certainty that it would come out well. It's all a voyage of discovery."
With Genesis recently calling a halt to their current British tour, their former guitarist and songwriter Steve Hackett finds himself the keeper of the flame when he plays all of the band's classic 1977s live album Seconds Out tonight - and more.
In truth, the the Genesis of today with three original members led by Phil Collins only plays a handful of tracks from their prog rock hey-day which Steve Hackett contributed to much, too, as well as Peter Gabriel.
Always open to experimentation and new musical challenges, Steve has fond memories of playing his final shows with Genesis which make up the double album Seconds Out.
"I have happy memories of the time," Steve tells me over the phone.
"It was a live album but it was my last project with the band before my departure.
"As a collection of songs it's still held in high esteem by people across the globe.
"I once had the good fortune to stay with a famous actor on a visit to the United States.
"When I was leaving, he must have stuck on Seconds Out on his hi fi because, as I drove away I could hear the album playing really loud across the road."
Hackett was also pleased to work with Brian Eno in the days his old band were recording The Lamb Lies Down On Broadway in 1974.
Steve said: "I enjoyed working with Brian briefly on Lamb.
"He's an ideas man, really, but he's very smart.
"He was a breath of fresh air in the studio."
Hackett has built up an incredibly prolific CV since he left Genesis four decades ago after his colleagues' less than warm response to his desire to branch out on his own more with a free hand.
From the experimental prog rock of his debut solo album Voyage of the Acolyte in 1975 to the pastoral acoustics of the orchestral Under A Mediterrean Sky album released earlier this year, Hackett has never lost his love for stretching his talents and interests leading to a brilliant and diverse back catalogue.
Hackett's band for the tour contains many faces which will be familiar to fans from his impressive run of solo albums.
Joining him on his much-anticipated string of autumn dates will be his regular musicians Roger King (keyboards), Jonas Reingold (bass), Rob Townsend (saxes/flutes) with Nad Sylvan on vocals.
Craig Blundell (Steven Wilson, Pendragon) will be on drums and percussion.
He was voted by Modern Drummer and Rhythm Magazine readers as one of the top progressive and forward thinking drummers in the world.
Steve said: "I am looking forward hugely to being back on the road in the UK in front of real audiences again after lockdown and live music by Zoom, bringing the whole of Seconds Out back to life.
"The set features some of the most thrilling Genesis material, this time all numbers played in full, plus additional surprises."
It's been a time for revisiting the past for Steve Hackett of late.
In July his enthralling autobiography, A Genesis In My Bed, was published in which the multi-talented musician talks candidly about his early life, his time with Genesis, and, in particular, his personal relationships with the other four band members, with great insight into the daily goings on of this major rock band.
Steve Hackett's Seconds Out + More Tour is at the Royal Hall, Harrogate on Friday, October 22, 2021.
For tickets, visit www.harrogatetheatre.co.uk