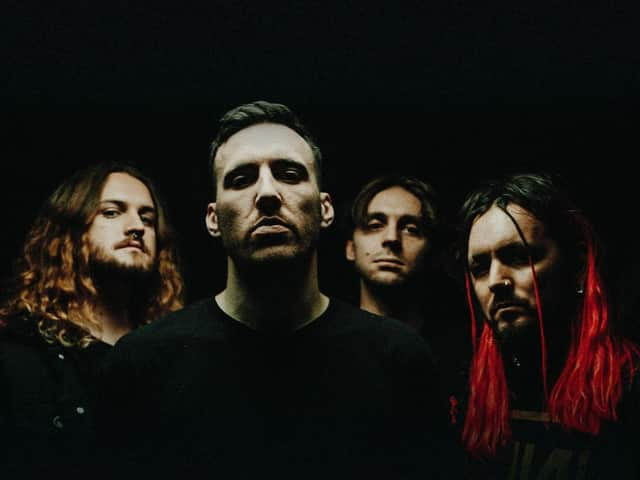 The dark, thrilling and powerful Blood Youth - "We're very excited about the UK tour."
Having worked from the bottom to get to where they are now - Kerrang magazine regulars, proper management, acclaimed albums, arena shows, major festival appearances, incredible videos and four million plays on Spotify for one of their singles (Spineless, which was released in 2019), Blood Youth are not the sort of band to look back.
Guitarist Chris Pritchard said: "Being a rock band in today's music industry is the hardest thing you can do. It takes 100% of your effort and money all the time. It's the suits and the industry that benefit most. Bands are the last people these days to have girlfriends or homes or money."
Chris continued: "But I've wanted to do this fully from the very beginning and we've achieved quite a bit.
"We're very excited about the tour. We've always wanted to do a tour like this where it's just stripped down, up close and personal.
"It's going to be great playing to real audiences again."
As impressive as the rise to success has been by Blood Youth, just don't mention they are from Harrogate or call them a 'hardcore' band.
"We were never hardcore, We are nu metal but from the sort of industrial metal end of it," says Chris.
"As for being a Harrogate band, we didn't play Harrogate in the beginning and we never have since.
"Only two of us in the band are from the town now, anyway.
"I have a love-hate relationship with Harrogate. I've always blown Harrogate's trumpet but it's one of those places where people get too comfortable in their lives."
Half of the current line-up of this dark and compellingly powerful four-piece, which also includes Matt Hollinson (bass) and Brad Ratcliffe (drums), are not original members; partly the price of being good friends with the job-swapping indie pop punk band Neck Deep!
But, as well as Pritchard, Blood Youth also boast another Harrogate link in lead singer Kaya Tarsus who first made his name as a young teenager with local band Book of Job, who won the AMP Awards at the town's Royal Hall back in the day.
Kicking off at Hull on September 15 before finishing in Huddersfield on September 26, the tour is deliberately set in small venues to create an up-close and personal taster for fans of a bigger tour to come in February 2022.
The band has also just released a new track called Colony3.
The totally dedicated Chris and Blood Youth have travelled a long way since forming in 2014 and have built a strong following by stealth, partly through their with brutally honest and psychologically acute lyrics speaking of the stresses of living in an anxious world.
Still, despite having moved on form their roots, it may be instructive that Blood Youth's recent single, Cells, released on Rude Records, was promoted with a typically impressive video shot partly in Knaresborough.
The band's full line-up is:
For more information, visit www.bloodyouth.com/