Triathlete reveals remarkable journey to World Series and says new global event to hit Nidderdale is 'an opportunity for anyone to get a GB best'
A Team GB triathlete who began training at the age of 35 has said a new global sports event coming to Nidderdale gives "anyone the opportunity to get a GB best".
Watch more of our videos on Shots! 
and live on Freeview channel 276
Visit Shots! now
Emma Robinson, a triathlete from North Yorkshire, came to support the launch of A Long Course Weekend last month, an international sports event that is set to put Nidderdale on the global stage.
Mother-of-three Mrs Robinson had raised her children and found the time to take on a new challenge when she began training in 2014.
Now 43, she works as a specialist community public health nurse and has travelled the globe representing Great Britain competing in the World Triathlon Championship Series.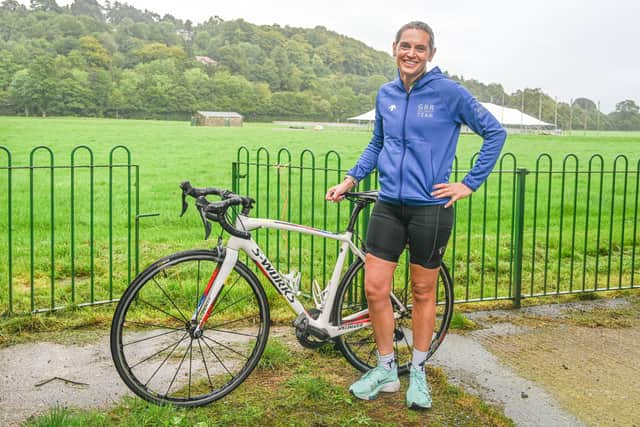 Mrs Robinson said: "I've competed for my age group with Great Britain.
"This new event is kind of a step down from the elite level so it gives older people a chance to compete at an international standard.
"With what I do, you've got to qualify in races in the UK.
"Come in the top four and within a certain top percentage so there is a standard attached to it.
"But this is more open so that everyone can have that opportunity to get a GB best.
"There's five year age groups all the way up to 80 years."
Mrs Robinson did cross-country and track running at school and continued to do it through university.
"It was only after having children that I decided I wanted a new challenge," she said.
"I had friends that had done it and I thought I'll give it a go.
"I loved running, and that was what I was best at."
Mrs Robinson had never ridden a road bike and bought a "relatively cheap one" at age 34.
"After having children, and having been through the years of bringing them up from babies when you don't do anything for yourself, I just wanted to do something for myself," she said.
"It drew my attention because I'd always enjoyed swimming as a child and thought I could probably learn to ride a road bike.
"You just need that motivation to finish.
"I started wanting to complete a triathlon, then when I did and did ok, I wanted to challenge myself further and get into the GB team.
"I entered the qualifiers and here I am.
"It's like any sport, you've got to have that degree of mental strength.
"I think if you really focus on it, you can do it.
"I don't think it's a certain person, anyone can train, it's all relative to someone's ability as well.
"You don't have to go out there to be winning the race for it to be a challenge and for it to be an achievement.
"Many people take up triathlon just to enjoy it, going around at their own speed.
"They just challenge themselves to do better next time.
"I think that's why this particular event is really good because they've got that opportunity to pick the bits they want to do."
Mrs Robinson has travelled the globe competing but has never had the opportunity to compete in the UK.
"It would be a shame not to compete in this one as it's on my doorstep," she said.
"It's really special that it's finally at home."