Ripon RUFC bounce back to beat Huddersfield Laund Hill by the narrowest of margins
Ripon RUFC bounced back from their narrow defeat at high-flying Baildon, beating Huddersfield Laund Hill by an even smaller margin.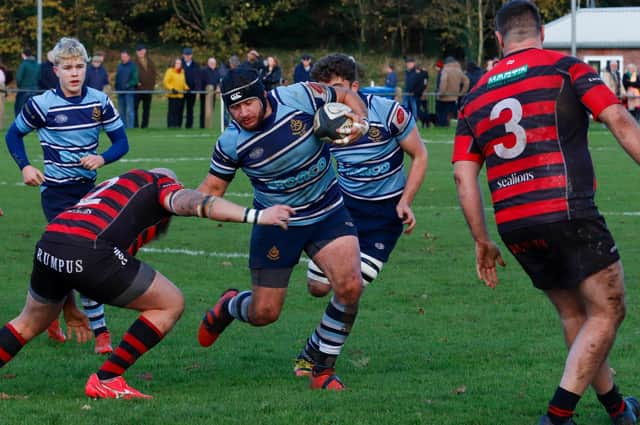 The Blues suffered a first Yorkshire Two loss in three matches when they went down 10-5 in Bradford last time out, but returned to winning ways on Saturday courtesy of a 19-18 success.
Huddersfield kicked-off, and following an offence at the breakdown, took the lead through a penalty with less than a minute on the clock.
Ripon were soon back on terms, however, Mikey Bray responding with a penalty kick of his own against his old club to make it 3-3.
The visitors then reclaimed the ascendancy after another penalty-related play, which saw an attempted Blues clearance charged down before a spell of concerted Huddersfield pressure ended with them touching down in the corner for an 8-3 lead.
The West Yorkshiremen weren't finished there and continued to build momentum, winning another penalty which provided them with the platform to go through the phases and cross the whitewash for a second time.
The resulting conversion was added on this occasion, leaving Hill in a position of real strength with a 15-3 advantage.
Crucially, the Blues managed to get the next score of the match, Bray landing a second successful penalty to narrow the gap.
Another shot at goal then dissected the uprights to send Ripon into the interval 15-9 down, but still in the contest.
The hosts played with far more control during the second period, though the score-line did not change until almost half-an-hour had been played.
A fourth Bray penalty brought his team to within touching distance at 15-12, only for Huddersfield to reply almost immediately with a three-pointer of their own.
Trailing 18-12 with time running out, the Blues knew they needed a try and one would eventually materialise following a scrum penalty.
Man of the match Harry Veitch, followed by the whole of the Ripon pack, pounded away at the visitors' line before the brute force of Tom Graham eventually finished the job, with Bray converting to edge the home side 19-18 ahead.
Huddersfield pushed hard in the dying minutes, earning and missing a penalty kick that would have won them the game, but the Blues were just about able to hold out.
This Saturday, sixth-placed Ripon travel to ninth-placed Dinnington. Kick-off is at 2.15pm.