Harrogate Darts League: Trades Hall Vikings edge close contest with Harlow Hill
Week Three of the Harrogate Darts League season saw Trades Hall Vikings edge out Harlow Hill by a 5-4 scoreline in Division One.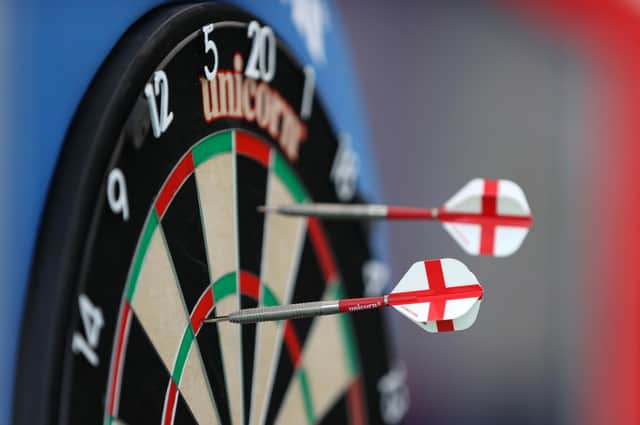 Harlow's Jim Lester beat Chris Nelson 3-1 before the Vikings equalized with Harry Kidd winning 3-1 against Lee Carey with an 18-dart leg.
Trades Hall's Rich Graham claimed a narrow 3-2 victory over Steve Rogers, before team-mate Phil Taylor whitewashed Alex Eadington 3-0 to make it 3-1.
Brian Ellison responded for Harlow, sinking Kevin Palmer with a 17-dart leg and a 180 to make it 3-2, but Tim Hargreaves beat Jamie Patterson 3-2 with a 16 dart leg and a couple of 180s for a 4-2 Vikings lead.
Adi Shaw and Rogers kept the contest alive, overcoming Kidd and Graham by a 2-1 score-line despite losing the opener in 21 darts, before Kevin Palmer and Taylor settled the tie by beating Jamie Beaton and Patterson 2-1 to put Trades Hall 5-3 in front.
Harlow's Lester and Ellison won the final match 2-1 with a 19 dart leg, narrowing the gap to 5-4.
Bilton Batsmen bounced back from their heavy defeat in week two, thrashing Manhattan Madhatters 7-2.
Jordan Harper squeaked a 3-2 win over Nigel Saville to get Manhattan up and running, however Bilton's Tony Sharratt bagged a 3-0 win over Daniel Knowles to equalise with a 20-dart leg.
The Batsmen then took control, Richard Yates beating Liam Hutchinson 3-0 with legs of 19, 21 and 25 before Steve Higgins ground out a tough 3-1 victory over Ryan Blanchard that included two 180s and legs of 21 and 23.
Bilton's Lewis Pride then cruised to a 3-0 success over Danny Gamble before Manhattan's Paul Monaghan stopped the rot with a 3-2 win over Lee Swales.
The Batsmen then produced some fine darts as they won all of the remaining three pairs matches to wrap things up.
Bilton WMC Dales also enjoyed a comprehensive 7-2 victory when they took on 1899 Trades Hall.
Dales' James Pedel beat Ian Gibson 3-0 with Jack Fleming seeing off Mike Lamb by the same score-line. James Hall then whitewashed Jonny Wareing 3-0 in 16, 19 and 21 darts.
Chris Wood beat Richard Taylor 3-2 with a 17-dart final leg before Rick Harper beat Tony Green 3-0 with a 14-dart opening leg to make it 5-0 to Bilton.
Trades Hall's Giles Holt retaliated against Terry Sherwood, bagging a 3-1 success to prevent his team suffering a singles whitewash, though Dales then went on to take both of the opening two pairs matches.
Trailing 7-1, Trades Hall's Tony Green and Jonny Wareing did enough to secure a consolation point for their side by winning the final pairs clash.
In Division Two Prince Of Wales routed Londesborough 2023, finishing up 8-1 winners.
There were singles successes for Shaun Smith, Gary Whellans, Jim Green, Jayson Duck and Adam Whitehouse, with Jason Delaney scooping Londesborough's only point of the night.
In a much closer affair, George & Dragon squeezed past Starbeck Cons, bagging a 5-4 victory in the end.
Londesborough God Squad enjoyed a comfortable 7-2 win over Manhattan School of Darts.