Harrogate Darts League holds preliminary round of Knock-out Cup competition
Week four of the Harrogate & District Darts League season saw the preliminary round of the Knock-out Cup take place.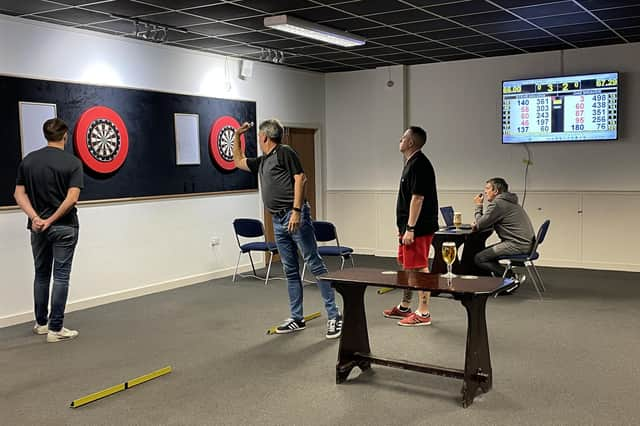 Current holders Bilton Batsmen and Harlow Hill received byes through to the competition's first round.
The format for cup ties is singles matches only, consisting of seven sets, which are decided over three legs.
Londesborough God Squad beat Prince Of Wales by a 5-2 score-line, Jamie Boyce claiming a 2-1 victory over Gary Whellan, while Terry Jackson won 2-0 against Jayson Duck.
Shaun Smith stopped the rot with a 2-0 demolition of Gary Watson in 21 and 24 darts, but Londesborough's Dane Chalmers then edged out Lorna Watson 2-1, despite her hitting a 25-dart leg.
Matt Lambert decided the contest, beating Adam Whitehouse 2-0, making the two remaining fixtures dead rubbers.
Jim Green claimed a 2-1 win over Tony Cash, including a 24-dart leg, before Steve Linday pulled one back for Prince of Wales, triumphing 2-1 against Daz Metcalfe with a 25-dart final leg.
Bilton WMC Dales also won by the same score-line, getting the better of George & Dragon.
Craig Gibson recovered from losing the opening leg to win 2-1 against Chris Wood, with Sonia Porter then beating Terry Sherwood 2-1 to give the George false hope of upsetting one of the league's in-form teams.
Rick Harper then destroyed Nicole Wilcox in 22 and 16 darts, while Jack Fleming also bagged a 2-0 victory against Mark White with a 21-dart winning leg. James Hall continued the run of 2-0 successes for Bilton, beating Ian Denny with an 18-dart final leg and a 180.
Pete Newbould and Ben Fleming contested the match of the night, Newbould edging it 2-1 in 20, 20 and 18 darts respectively.
James Pedel then came through by the same margin against Jamie Preece with 22 and 20-dart legs to make it 5-2 to Dales after a slow start.
Manhattan School of Darts edged out Trades Hall 1899 4-3 in what was a close contest.
The 1899 only fielded six players and that would ultimately prove to be their undoing.
Captains Christian McIntyre and Ian Gibson produced a scrappy affair, with the former edging it 2-1 to get Manhattan up and running.
Nick Hanslow equalised for Trades Hall, beating Luke McAvoy 2-0 with a 22-dart opening leg before Doug Sneesby restored Manhattan's advantage by seeing off Mike Lamb to make it 2-1 on the night.Tony Green put Robbie Blair to the sword in swift fashion to level matters once more, then Giles Holt battered an improving Colin Bunyan 2-0 in 22 and 24 darts to make it 3-2 to the 1899.
Mick Butterfield then recovered to beat Jonathon Wareing 2-1, making it 3-3 overall, however the bye point meant that the Manhattan side sneaked through in the end.
In a derby showdown between both Starbeck Cons teams, James Keane of the Mahoosive beat Tony Hawkes 2-0, with Ian Malkin following suit against James Marriott in 23 and 24-dart legs.
Blaine Hobson then beat Andrew Parkes by the same score-line before Sam Davey ended the contest, seeing off Chris Admas with two 18-dart legs.
Simon Hoare got Starbeck Cons off the mark with a 2-0 victory over Leigh Rowley before Alan Roberts lost 2-1 to Matty Vincent to leave Mahoosive 5-1 ahead.
The final head-to-head saw Dennis Wise sink Paul Kennedy for a consolation point, making the final score 5-2.
Trades Hall Vikings cruised to a 6–1 win over Bilton Umpires.
With the Umpires only able to field five players, they were always going to be up against it, finding themselves 2-0 down before a dart had even been thrown.
Viking Stewart Pyke recovered from losing the opening leg against Luke Saville to triumph 2-1 with a 23-dart final leg.
Tim Hargreaves won by the same score-line against Ken Glew – opening up with a 25-dart leg – before Dion Glew stopped the rot with a 2-0 win over Harry Kidd with two 25-dart legs.
It was however one-way traffic from that point onwards, with Phil Taylor beating Andy Darling 2-0 with a superb 157 checkout and a brace of 21-dart legs.
Chris Nelson rounded things off for the Vikings, winning 2-0 with a 20-dart deciding leg.
The upset of the round saw Manhattan Madhatters suffer a shock 6-1 reverse at the hands of Londesborough 2023.