Harrogate Amateur Bowling Association's Crown Green Veterans League holds Knock-out Cup finals
Harrogate Amateur Bowling Association's Crown Green Veterans League season drew to a close recently, with the Division One and Two Knock-out Cup finals taking place at Dacre BC.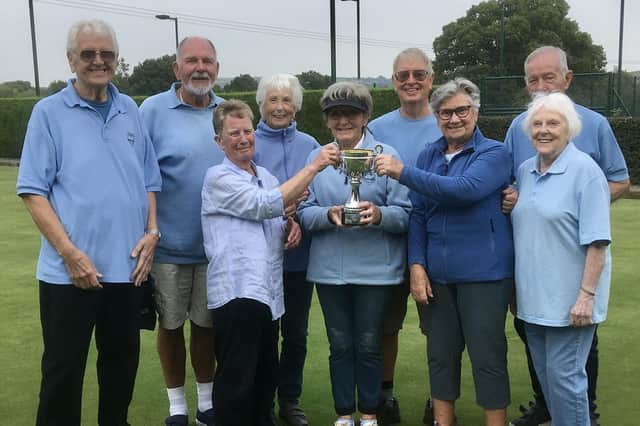 Played in largely fine weather in front of a crowd of well over 50 spectators, the Division One final saw Almscliffe 'A' go head-to-head with last year's beaten finalists, Wayside 'A'.
Barrie Sugden and Greg Johnson made winning starts for Wayside, but victories for David Greenwood and Margaret Atkinson ensured that Almscliffe made it to the match's halfway point with a two-point lead to their name.
In the second half of what was a well-contested affair, there were victories for Steve Cochrane and Vic Scaife Clarke of Wayside, however John Harrison and John Atkinson kept Almscliffe on track.
With the team handicaps added to their points totals, Almscliffe ran out victorious by an 11-point margin, ensuring that their name will be engraved on the Division One trophy for a third time.
Division Two's showpiece saw Wharfemeadows take on Bilton Working Men's Club.
Successes for John Chippindale and Linda Yates handed Wharfemeadows a healthy 23-point lead at the halfway stage, despite the efforts of Bilton's Paul Renton and Terry O'Beney, who did their bit for their team.
The second half of the contest saw Tim Marshall triumph for Wharfemeadows, however it was Bilton who finished the stronger, securing a trio of wins through Brian McLoughlin, Derrick Fox and Bob Parker.
However, despite finishing the match with five winners out of eight, Bilton ended up on the wrong end of the result after the team handicaps were factored in.
Those calculations left Wharfemeadows 18 points clear and saw a new name added to the Division Two silverware.
Elsewhere, at Almscliffe BC, a crowd of more than 40 turned out to watch Wetherby tackle Wharfemeadows 'B' in the Division Three final.
Wins for Billy Hartley, Lynne Harper and Gill Godden for Wharfemeadows earned them a halfway lead, including handicap of 27 points, with only Lesley Holloran triumphing for Wetherby.
However, two single-figure successes for Wetherby's Alex May and Andrew Morton, plus victories for Jean May and Jenny Wright, turned things around.
Thus, last year's losing finalists came out on top, by a 16-point margin.