Ashville College and Harrogate RUFC ace Kit Keith to captain North of England
An Ashville College pupil and Harrogate RUFC player has been selected to captain the North England Ultimate Rugby Sevens (UR7s) Under-18 squad at a forthcoming tournament against their southern counterparts.
Saturday, 29th May 2021, 6:58 am
Updated
Saturday, 29th May 2021, 7:10 am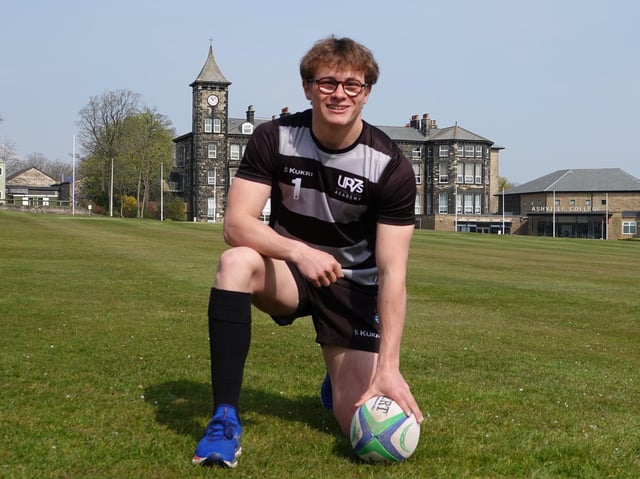 Kit Keith at Ashville College.
Kit Keith, who has also represented Yorkshire at Under15 to Under-18 level, will be leading his team at the UR7s regional festival, being held in Solihull over the last weekend of May.
"The UR7s regional festival will be my first time captaining a team at this level," said 18-year-old Keith, who lives in village of Darley.
"It's a really exciting prospect and I am looking forward to the challenge of leading the team.
"I want to take my rugby career as far as possible, and I hope captaining the North England UR7s U18 squad will help me on my journey."
Keith, who operates at either scrum-half or fly-half, recently made his maiden 1st XV appearance for Harrogate RUFC in a friendly fixture against York.
Having caught the eye of director of rugby Dave Doherty, he is expected to feature for the Aces in National Two during the 2021/22 campaign.
But, for now, his focus is firmly set on delivering at the UR7s festival, where each team of seven plays a series of games with each half lasting seven minutes.
Keith is set to compete against opponents from schools, rugby clubs and academies from across the UK, much to the delight of Ashville's Head of Rugby, Gary Mercer.
"We are absolutely thrilled for Kit," said the former New Zealand rugby league international.
"The UR7s festival is a fantastic opportunity for him to demonstrate his superb rugby skills, as well as developing his leadership qualities.
"During the Easter holidays, Ashville hosted a three-day sports camp and Kit was there every day helping to coach the young participants. He was a fantastic asset and someone the boys and girls looked up to.
"I know he will be a great captain and everyone at Ashville will be rooting for Kit and his North England U18s team."