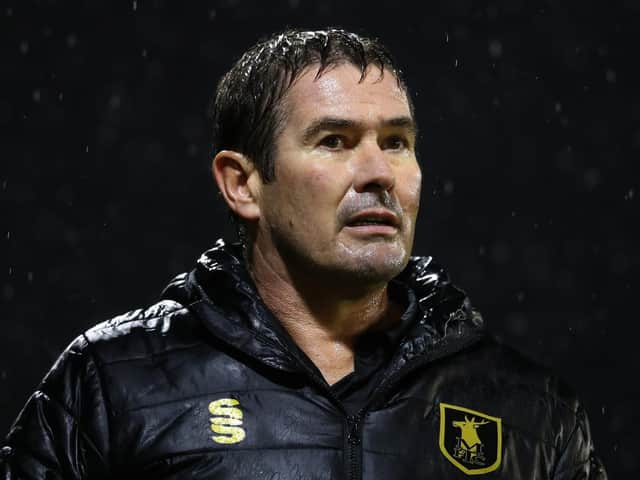 Mansfield Town manager Nigel Clough. Picture: Getty Images
Calvin Miller's close-range finish from Jack Muldoon's 27th-minute cross earned the visitors a 1-0 victory at Field Mill and ended a run of six league matches without a win.
But, Stags manager Clough believes that on another night his players could have ended up with a share of the spoils and even went as far as to speculate that they might have gone on to take all three had an equaliser materialised.
"I think we could have had a point from the game and if we'd got one [goal], you never know from there, we might have gone on and got a second one," he said.
Harrogate Town's players celebrate after breaking the deadlock at Field Mill. Picture: Matt Kirkham
"But, the biggest disappointment is not hitting the target tonight. I think we registered one shot on target tonight from quite a bit of play. We had more than enough situations tonight to create chances and get goals, and we failed to do that. We didn't test them enough, we didn't test the goalkeeper.
"I thought that generally speaking, our two centre-halves dealt with what they threw at us very well, the long throw-ins, the set-plays. Marek [Stech] has only had the one shot [to save], so we defended well enough.
"It was a poor goal we conceded. Stephen [McLaughlin] loses a tussle and then we don't stop the cross.
"It's good to see the huge disappointment in the dressing room from the players, they know that we did enough and that on another night we could have had a point.
"Nothing dropped for us in the penalty area. They did get some good blocks in, but you just want a little ricochet to drop to somebody and it didn't quite happen."