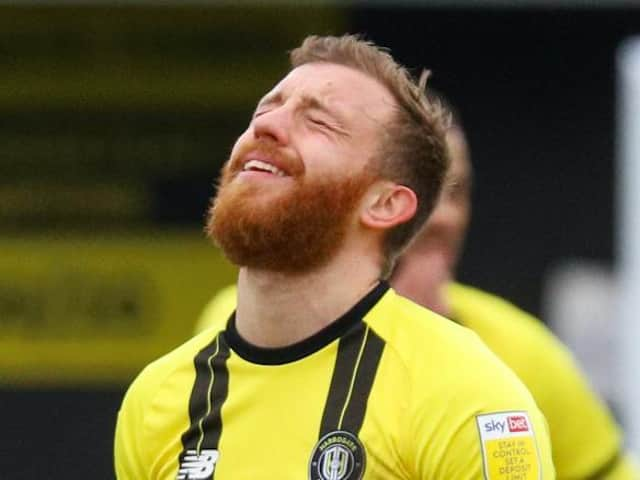 George Thomson couldn't hide his frustration during Harrogate Town's home defeat to struggling Southend United. Pictures: Matt Kirkham
Speaking on a podcast in the build-up to Harrogate Town's home showdown with relegation-threatened Southend United, I brought up the Shrimpers' woeful form heading into last Saturday's match.
It bothered me that they hadn't won in seven games and had scored just one solitary goal – a penalty – during that month-long spell. My fear was that, although they are undoubtedly something of a crisis club, they were well overdue both a result and some goals.
The fact that they'd started keeping a few clean-sheets and picking up some points told me that they obviously had a bit about them. If they weren't completely out of their depth and getting battered every week then surely their mammoth run without finding the back of the net in open play couldn't go on much longer.
Harrogate Town players react to falling behind against the Shrimpers.
Those kind of freak spells don't last forever and, sure enough, come tea-time on Saturday, Mark Molesley's men were celebrating a much-needed three points at the EnviroVent Stadium following Ashley Nathaniel-George's 69th-minute close-range finish.
I'm not claiming to be psychic, but this was one of those results that I think you could see coming.
More importantly, you can say what you want about fine margins and Town not taking their chances, hitting the cross-bar and being on the wrong side of another close scoreline, but for me, they simply didn't do enough in the game.
They weren't downright awful, they didn't not try and I wouldn't say any of them have "downed tools", however I don't feel that their performance against really ordinary opposition was up to scratch.
Yes, the Southend XI that turned up in North Yorkshire was a lot more experienced and far less brittle than what was more or less a youth team which the Sulphurites routed at Roots Hall on the opening day of 2020/21, but they still looked a very limited side. They're staring down the barrel at relegation down to the National League for a reason.
Gigantic Shrimpers centre-forward Emile Acquah is very probably the worst player I've seen in League Two this term, while the man next to him – Simeon Akinola – has scored two goals all season.
In the centre of the park, veteran Alan McCormack's legs looked to have gone before half-time, although he did still manage to maraud forward to tee-up what proved to be the afternoon's only goal.
Credit where credit is due, the visitors defended their box resolutely in the closing stages, and they did string together a few tidy passing moves on a dreadful pitch, but their first-half game-plan appeared to consist of passing the ball backwards to centre-half John White and seeing how high he could boot the ball up into the air.
Anyone can beat anyone on their day in this division, however Harrogate just weren't professional or ruthless enough at 0-0 and then failed to do anywhere near enough to try and get back into the contest having fallen behind.
You can write-off any single performance or result in isolation, but what was served up at Wetherby Road at the weekend was extremely similar to the disappointing display witnessed seven days earlier when Morecambe were the visitors.
Those games are however gone now and the overall picture remains a very healthy one, given that, as I think everyone associated with the club reminds themselves on a daily basis, we'd all have taken mid-table obscurity if it had been offered before a ball was kicked last summer.
As cheesy as it may sound, finishing anywhere above 23rd position will be an achievement in itself.
But, there are still nine fixtures remaining and Town need to start picking up points again pretty quickly.
Southend looked like the ideal fixture to get things back on track and Walsall has a similar feel about it given that the Sadlders haven't won in 12 matches. But what have I just been saying about freak runs not lasting forever...
As it happens, I don't believe that Harrogate have turned into a hopeless outfit overnight and while Southend were due a result and Walsall must surely have one coming, I don't believe Simon Weaver's team are spiralling into free-fall.
They have shown that they can go away from home off the back of disappointment and grind out victories. Just think back to the gritty 1-0 success at Mansfield back in November and the excellent 2-1 triump over Exeter City just before Christmas.
And, I think that grit and determination will be required in the West Midlands.
I'd love to see Town go out and play expansive football and score three or four goals, but I reckon that this will be yet another tight affair where keeping the back-door shut will prove the key.
Think back to when Town seemed to come to life a couple of months back and were causing teams problems with their pace and movement and won seven out of 10.
Josh March and Simon Power were a huge part of that and both men have subsequently suffered season-ending injuries.
March in particular was crucial to this team's upturn in fortunes and he has really been missed. Indeed, Harrogate have lost three out of three since he was crocked against Colchester.
So, with less pace and vibrancy in their ranks, I think it might have to be a case of toughing it out against Walsall and trying to cut out those ever-so-costly errors at the back.
Watch it finish 4-3 after everything I've just written.