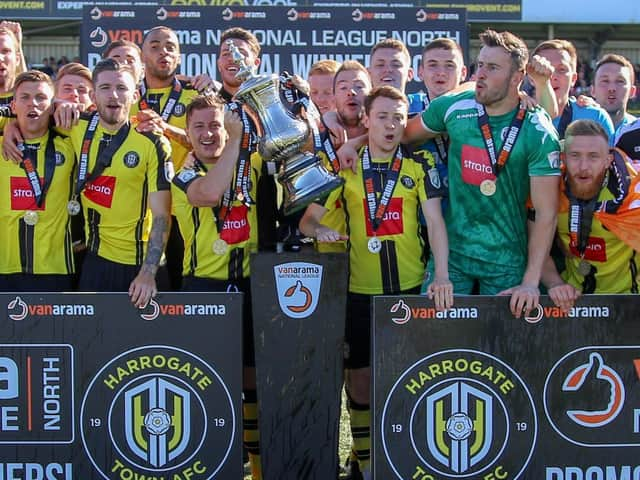 Harrogate Town players celebrate their 3-0 National League North play-off final victory over Brackley Town, a result which saw them promoted to English footballs fifth tier for the first time. Picture: Matt Kirkham
Following on from last week's look back at 2016/17, I am now turning my attentions to the season that Town were promoted from National League North.
It was a campaign that kicked-off with a 4-0 home triumph over Nuneaton as Simon Weaver's team went on to win six of their first seven games.
One of the most memorable encounters saw Town race into a 4-0 half-time lead at home to Alfreton, taking us back to the top of the league at the time. We then had to suffer the jitters as our opponents, Brendan Daniels and all, came a world class James Belshaw save away from squaring the match at 4-4.
Another goal-fest came when hapless FC United visited Wetherby Road and were duly dispatched by a scoreline of 6-0.
Then there was York City. Twice.
An unsegregated 2,800 at Wetherby Road in September saw a 2-0 win for Town. It was all summed up perfectly by the Harrogate-based York fan on Facebook who revealed that he'd supported City all his life and had proudly taken his young son along to watch them for the first time.
Now his son had repaid him by wanting to support Town. Worse still, he was hankering after a Harrogate shirt.
Oh, how I felt for his dad. It must be hard, having to watch York City.
The return match at Bootham Crescent was even better. Town took an unprecedented 515 supporters, Jake Wright became a new short-lived folk hero, and my daughter Molly disappeared in a joyous ruck of fans rushing to the front of the terraces to celebrate the goals.
Of course, there were downs as well. In March, after defeating Gainsborough at home, the fake news came through that Kidderminster had hung on to defeat our title rivals Salford 4-3, having been 4-0 up with 10 minutes to go.
We were back at the top on goal-difference and the Kop celebrated with the manager and players.
It was then that the tannoy crackled back into life: "The news from Kidderminster is that Salford have pulled it back to 4-4." Our bubble was well and truly burst.
Town frustratingly suffered only their second home defeat of the season in the following game, 2-1 to a cynical, time-wasting Spennymoor team, handing the advantage back to Salford in the process.
I must, however, commend the victorious visiting players on taking the time at the end of the game to remind the Kop of just how many goals they'd scored via the considerate use of hand signals.
Having eventually lost the title race to Salford and finished second, we faced a play-off semi-final at home to Chorley.
Town completely over-ran Chorley with slick, incisive passing movements and waves of attacks for the first half an hour, but the visitors' goal led a charmed life.
When Chorley scored from their first effort on goal, heads dropped and nervousness set into the crowd.
Cue the unusual sight of the managing director walking along the Wetherby Road Stand waving his arms and shouting at the crowd to turn the volume back up.
Then Town were awarded a penalty. Chorley fans ran forward and shook the net.
It seemed to take an eternity for things to calm down and, when Dominic Knowles eventually despatched the spot-kick, I couldn't believe it had gone in. I was just too tense to celebrate.
Ten-man Chorley then basically shut up shop and we were heading into extra-time when a speculative shot fell to Knowles in the 94th minute, for him to make it 2-1.
I was sure he was offside. He had to be. I just stared at the linesman, awaiting the inevitable flag. It never came.
The crowd went crazy like I'd never seen at Town before.
A capacity 3,000 crammed into Wetherby Road for the play-off final. Two more goals from Knowles and one from the National League North Player of the Season, Joe Leesley, only told half the story.
Town had two players stretchered off before half-time and, for all the talk of the visitors' mean defence, it was Harrogate who defended like their lives depended on it when they had to.
It turned out to be Brackley who couldn't live with our pace and attacking desire, as evidenced by the third goal.
As soon as Lloyd Kerry nicked the ball in deep midfield, Ryan Fallowfield, our effervescent young right-back raced down the wing hand aloft in the air.
The ball to him was slightly over hit,, but Fallowfield wasn't letting it go out, as he burst every sinew to reach it, before teeing up an incoming Leesley right in front of us at the Kop end.
We'd done it, we'd reached the top tier of non-league football. A whole tier above York City.
Two amazing firsts for little old Harrogate Town.