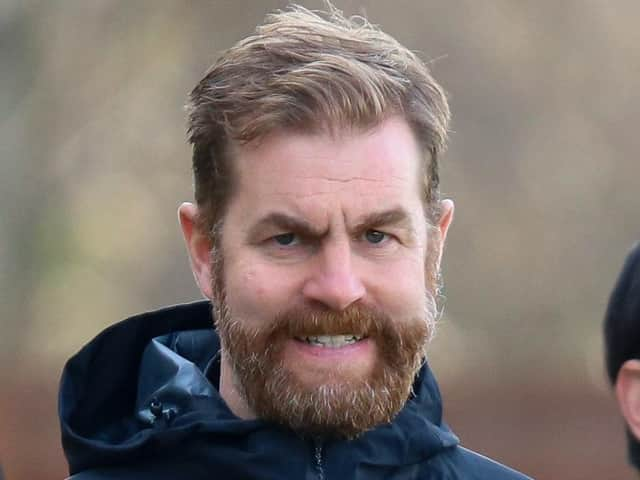 Harrogate Town manager Simon Weaver has not liked what he has seen from his players during back-to-back defeats to Forest Green and Morecambe. Pictures: Matt Kirkham
With 10 games remaining this term, the Sulphurites sit 13th in the League Two Standings. They are not facing a fight for survival, and their chances of mounting an assault on the League Two play-off places have been significantly diminished following a run of three defeats in four matches.
Currently nine points shy of the top-seven, it is not inconceivable that Town could soon find themselves playing for little other than a top-half finish.
But, with places up for grabs ahead of May's FA Trophy final Weaver is demanding that his players keep giving him 100 per cent in every fixture between now and the conclusion of the club's maiden EFL campaign.
Harrogate Town spurned a host of good chances on their way to a 1-0 home defeat to Morecambe last time out.
"They've got to have their minds on it," he told the Harrogate Advertiser.
"I would hate it if, because we've been on a bit of a good run, that anyone starts to show a little bit less intensity between now and the end of the season.
"I will pick a team for Wembley that represents Harrogate Town on television at that amazing place that is on form and is doing the business, not players who have downed tools.
"Yes, it's a steep learning curve in League Two, but those who learn the fastest are the ones who will stay in the team."
The Town boss even went as far as to say that any player he suspects of taking their foot off the gas could find themselves shown the door this summer.
"We don't want a case where the lads think 'they're happy with us, we've had a good run since Christmas, we've done the business so we'll take a pat on the back and have a nice rest,'" he added.
"It can fizzle out, but players will find themselves not here next season if they down tools because we want to win every single game.
"Training has been great and I can't really fault them there, they train with real desire, but there was an overall malaise against Morecambe on Saturday – probably because we conceded so early and that sapped the energy of some of the players."
Weaver does not expect that "malaise" to continue, however, and says he will use the play-offs as a carrot "drive" his players on, despite Saturday's defeat meaning that rivals Morecambe have put nine points between the two sides.
"If we don't drive them then maybe they will go soft. And people can these days, unfortunately," he said.
"We've got to drive them on. The play-offs are not out of the question. In most people's eyes they will be after losing to Morecambe, but who is to say that Morecambe won't go on and lose their next three.
"Nothing surprises you at this level. It wouldn't surprise me if we went on and won the next four, but that will only happen if we play better than we have done in the last two."
Town host relegation-threatened Southend United on Saturday, 3pm kick-off at the EnviroVent Stadium.