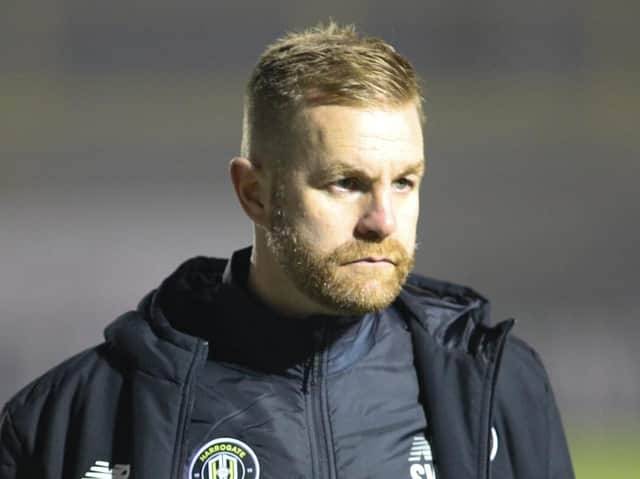 Harrogate Town manager Simon Weaver. Pictures: Matt Kirkham
The Sulphurites chief missed last Saturday's draw with Crawley after developing Covid-19 symptoms the night before the game.
He subsequently tested positive for coronavirus and will remain in isolation until at least November 23, though the good news for the club is that the rest of their playing and coaching staff all returned negative test results this week.
This means that Saturday's League Two clash with Orient goes ahead, with assistant boss Thirlwell overseeing matters from the sidelines in Weaver's absence.
Paul Thirlwell took charge of Town for Saturday's home draw with Crawley and will again oversee matters from the touchline at Leyton Orient this weekend.
"I had some of the symptoms on Friday night, and of course you have to take Covid-19 seriously, so I took myself out of the equation for the Crawley game," the Town boss told the Harrogate Advertiser.
"My wife, my two kids and myself have all subsequently tested positive, but the players were tested on Tuesday and their results all came back negative, so obviously I'm pleased that I haven't spread it.
"I'm missing being around the club and the group already. It was immensely frustrating having to watch via a live stream on Saturday and it will be again this weekend. The Crawley game was the first league fixture I've missed in 11 years.
"Obviously, you feel far less in control of what's happening when you're not actually there, but, I have so much trust in Paul Thirlwell, my back-room staff and all the players."
Weaver, who remained in touch with Thirlwell via telephone during Town's clash with Crawley, revealed that the experience of watching via a computer screen was rather an agonising one.
"I was walking up and down in my kitchen before kick-off visualising where I would usually be at that time and what I'd be doing and my stomach was in knots," he added.
"When the game started it felt completely out of the ordinary. It was so much more nerve-racking than normal.
"Thirs called me at half-time on his way back into the changing room and we were both thinking pretty much the same thing. We made a substitution and tweaked the system and I think it worked.
"I was in touch with him a lot during the second half. The stream I was watching was running behind, so I didn't know that we'd scored when he called to say it was 1-1. That was quite a moment, absolutely fantastic.
"Thirs and the players really deserved that result."
Weaver certainly isn't looking forward to the prospect of having to watch another Town fixture unfold via live stream this weekend, but insisted that he is just grateful that he and his family have not been seriously affected by coronavirus.
"It's annoying that I'll miss another game this weekend, but you do have to put things into perspective," he said.
"Yes, my family is cooped up in the house, but we're in our own home and not suffering in hospital like thousands of other very ill people are.
"You can't lose sight of that, and I'm very grateful that we seem to be through the worst of it now and getting better."