'Shocking' - Harrogate Town react to FA decision to dismiss appeal against Warren Burrell red card
Harrogate Town manager Simon Weaver has spoken of his frustration after the Football Association (FA) rejected the club's appeal against Warren Burrell's recent sending off.
Friday, 29th November 2019, 6:58 pm
Updated
Friday, 29th November 2019, 6:59 pm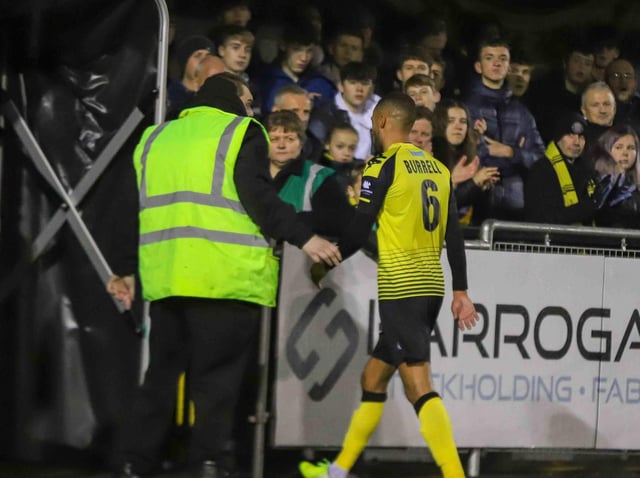 Harrogate Town midfielder Warren Burrell heads down the tunnel and for an early bath after being sent off during the 2-2 draw with FC Halifax Town. Picture: Matt Kirkham
The midfielder caught Liam Nolan with a high boot in the closing stages of Tuesday's National League derby clash with FC Halifax Town and was shown a straight red card by referee Simon Mather.
Having reviewed video footage of the incident, Weaver described the decision as "shocking" post-match and insisted that it had "to be rescinded."
The FA's appeals panel have however upheld the original decision, meaning that Burrell will now miss Saturday's trip to Sutton United and will also be suspended for the upcoming fixtures against Torquay and Hartlepool.
"We're all surprised and very disappointed," Weaver said.
"A three-man panel voted two-to-one against rescinding the red card, which is more than surprising because the referee's assessor on the night told him [Mather] that he had made a mistake.
"I've also spoken to the referees' coach for our league and he agreed with me that it shouldn't have been a red card.
"The FA have not even seen fit to reduce the ban from three games to one. So to get to the two negatives from our appeal is shocking. It's hard to take."
Town sent the FA a substantial dossier of evidence in support of their appeal, including video footage that shows Burrell to be looking at the ball and unaware of the presence of Nolan, who approaches from behind.
"We sent video footage and 20 different still photos where you can clearly see that Warren's eyes are fixed on the ball the whole time," Weaver added.
"You can see that their player comes from behind him, so Warren can't know he's there.
"It's clear that he [Nolan] stoops low down to try and head the ball, which is a strange decision given that he can see what Warren is doing.
"You can tell a lot from the player's reaction. Warren is shocked initially that the referee's blown for a foul, it's outrage on his face when the red card comes out."
Convinced that Town presented sufficient evidence to have Mr Mather's initial decision overturned, Weaver is now left to rue what he believes to be a flawed appeals process.
"I know that intent isn't taken to consideration anymore, but you just have to look at what happened logically," he said.
"We've appealed and have trusted the process. You'd think that logic would come through on our side but I'm wondering if the FA has done this to try and put us off appealing decisions.
"You don't get much in terms of feedback. It's a case of 'your appeal has failed, see ya later.'
"I really don't see why they wouldn't just look at assessor's report and decide to throw it [the initial decision] out. It's very, very frustrating.
"Personally, I don't think that anyone who has played the game would make the decision that they have come to."
Burrell's absence means that either Jack Emmett, Alex Bradley, Lloyd Kerry or Scott Brown will get their chance in the centre of the Town midfield, and Weaver has advised that whoever gets the nod must make the most of their opportunity.
"I feel bad for Warren. He doesn't deserve this, but we do have plenty of options in that area," the Wetherby Road chief continued.
"The centre of midfield is one of the positions where we do have a lot of strength in depth, so we'll be fine, but Warren would have started the Sutton game and now he misses this one and then another two more.
"In terms of consistency in selection and putting a settled team out, we're unable to do that because we can't pick Warren.
"It is, however, now up to whoever comes in and takes his place to show what they can do, make the most of their opportunity and try to nail that position down."