MP Andrew Jones left 'gutted' as FA decides Harrogate Town's FA Trophy final will take place without fans
Harrogate & Knaresborough MP Andrew Jones said he was left "gutted" after the Football Association opted not to rearrange the 2020 FA Trophy final for a date when fans could attend.
Wednesday, 7th April 2021, 9:52 pm
Updated
Wednesday, 7th April 2021, 9:56 pm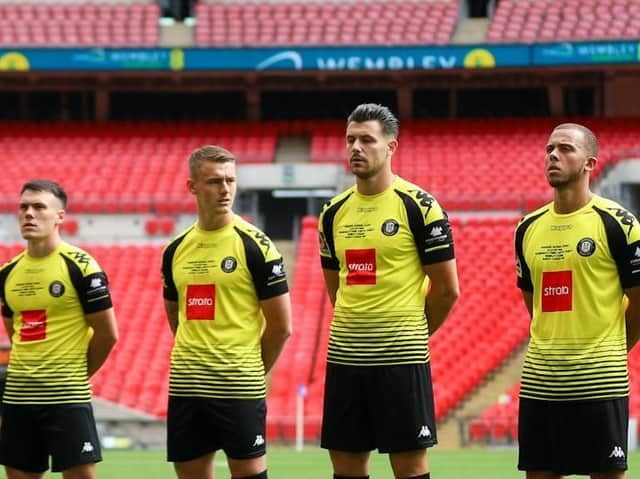 Harrogate Town's players will once again be greeted by empty seats when they walk out at Wembley Stadium to contest the 2019/20 FA Trophy final. Picture: Matt Kirkham
Harrogate Town are due to tackle Concord Rangers at Wembley Stadium on May 3, a fortnight before spectators are allowed to return to sporting events in this country.
Having postponed last season's Non-League Finals Day back in September because Covid-19 restrictions meant that no supporters would be allowed to share the experience, the FA initially said it planned to reschedule the event for a time when fixtures did not have to take place behind closed doors.
Thus, their decision to hold the FA Trophy and FA Vase finals on May 3 left fans of the four clubs involved devastated, prompting Jones to get involved on their behalf.
Andrew Jones, MP for Harrogate & Knaresborough.
Having consulted with Town officials and club owner Irving Weaver, he rallied fellow MPs, contacted the FA directly and even raised the issue with Prime Minister Boris Johnson – but all to no avail.
"I have spoken to the owner of Harrogate Town this morning [Wednesday] about the Football Association's decision not to move the date of the FA Trophy final. To say that we are both disappointed is an understatement," Jones told the Harrogate Advertiser.
"I have spoken personally to the Acting Chairman of the FA, written to the Chief Executive and raised the issue with the Prime Minister on the floor of the House of Commons.
"On each of those occasions I have put forward the views of the supporters, as I had also met with Town's Supporter Liaison Officer.
"In my initial discussions with the FA I felt that the door had not been finally closed to rescheduling the match although due to the backlog of matches caused by the pandemic and the weeks when Wembley would be unavailable because of hosting the Euros we all knew it would be an uphill struggle.
"I know that they tried hard, explored options, liaised with the clubs and the broadcaster, and am grateful for their efforts.
"So, despite the collaboration between MPs, supporters and the club we weren't able to pull this one off. I was looking forward to joining the players and the fans at Wembley. I'm gutted that won't now happen."
Phillip Holdsworth, Town's Supporter Liaison Officer, organised a petition urging the FA to reconsider their decision to hold Non-League Finals Day on May 3 that was signed by more than 1,200 people.
He shares Jones' frustrations, but stressed that he does believe that the FA did everything that it could to try and find a solution which would allow fans to attend Wembley.
"I'm disappointed by the outcome. It's such a shame for all the supporters," he said.
"But, having been quite involved in what's been going on over the last few weeks I know that the FA spent a lot of time trying to solve this.
"There's this impression that the FA don't care, but I've realised that this isn't the case.
"They were always going to be up against it in terms of finding a solution. It was virtually impossible to move Non-League Finals Day to another weekend, and they did consider a midweek event, but two of the clubs involved said no because some players wouldn't be able to get time off work to play.
"And, it was the Government, not the FA, who chose which matches would be test events. It was just an extremely difficult problem to try and solve."
Town supporters have already missed one Wembley experience due to their historic 2019/20 National League play-off final triumph over Notts County taking place behind closed doors last August.
The opportunity to attend the delayed FA Trophy showdown with Concord Rangers would have gone some way to making up for that disappointment, and thus the FA's change in stance has left a bitter taste in the mouth of fans.
Writing in his latest Harrogate Advertiser column, author Dave Worton said: 'What exactly was the point of the delay, if promises weren't to be honoured?
'We may as well have played the final last year and either ourselves or Concord could have held the Trophy for a while into the bargain.
'It's just confirmation that, when push comes to shove, non-league/lower league teams really don't count in the scheme of things.'