MK Dons 0 Harrogate Town 1: Sulphurites will take confidence from 'gritty' nature of victory
Simon Weaver expects his Harrogate Town players to draw plenty of confidence from the "gritty" nature of Saturday's 1-0 win at Milton Keynes Dons.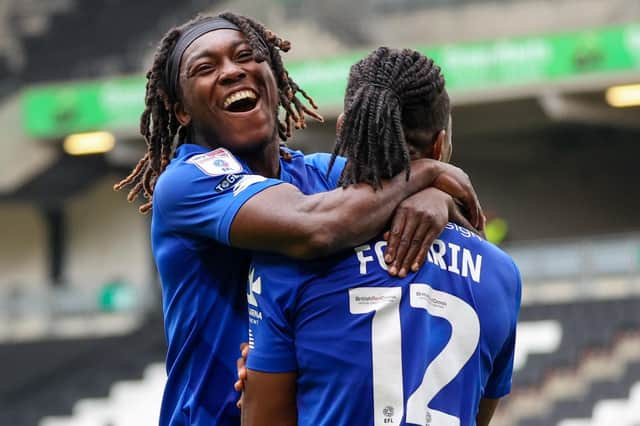 The Sulphurites recorded back-to-back League Two victories for the first time this season courtesy of Warren O'Hora's unfortunate own goal shortly before half-time.
And although not completely satisfied with their first-half display, Weaver felt that his players did more than enough after the interval to warrant all three points.
"It was almost a bit too relaxed during the first 15 minutes where we kept giving the ball away and inevitably the opposition had their tails up and were getting more entries into the box," he said.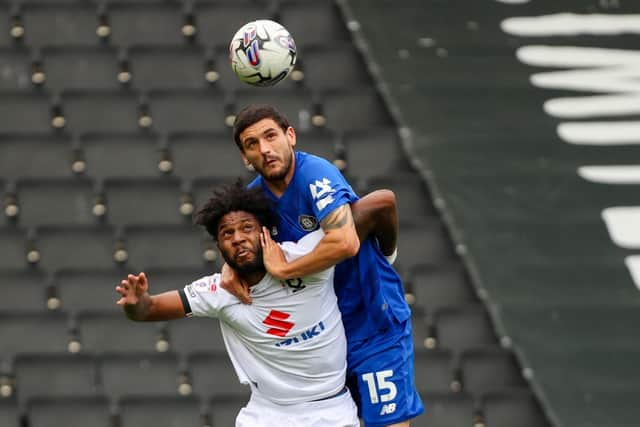 "We were causing our own problems and lacked a bit of the intensity and desire that we demand, and it took a fine save from Mark Oxley to be the catalyst for a better performance.
"I said at half-time that it [1-0] is a good score-line, but I haven't been as delighted by the performance in comparison to last week, although there were signs on the counter-attack.
"Second half, it was all about grit, about seeing it through, reducing their opportunities. We dropped into the middle third, I was fine with that because we knew that we could hurt them with pace in behind when we did break - and we did just that. It could and should have been more, but we'll settle for 1-0 away from home every day of the week.
"I'm delighted with a clean-sheet and a victory. In professional sport, the psychology of being able to seal the deal, keep a clean-sheet when you're playing under pressure and actually get over the line by being gritty, it gives you so much confidence."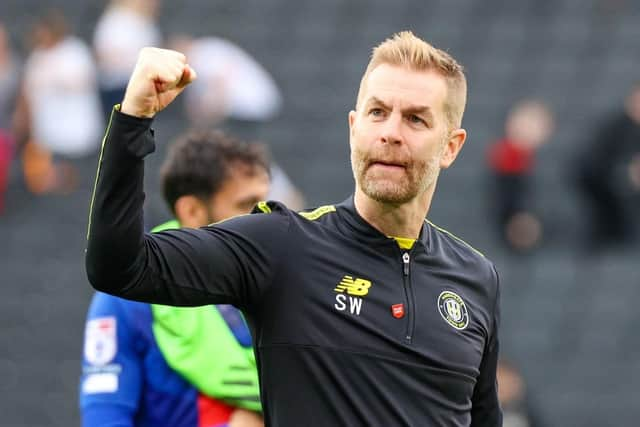 The game's decisive moment arrived on 40 minutes when Town right-back Kayne Ramsay got too much on his long pass over the top of the Dons defence.
Former Harrogate custodian Craig MacGillivray raced off his line to clear the danger some 30 yards from goal, but under pressure from Sam Folarin he could only drill the ball against the body of O'Hara, then watch in horror as it rebounded into the unguarded net.
And while the visitors did create a couple of opportunities before and after that breakthrough, it was their work out of possession that Weaver highlighted as being key to them coming out on top.
"After the first 15 minutes, I thought we were really hard to beat," he added.
"I think it was down to a collective defensive effort. I think that the defenders were magnificent at reading danger, the midfield four were terrific in terms of preventing us being exposed as a back-four, and the front two dropped in on numerous occasions and broke up play, so everybody played their part.
"As you expect away from home, they are going to put balls in the box late on and throw the kitchen sink at you, and that's where you have to demand that your centre-halves stand up to the task, and they seemed to relish it once again.
"It was a fantastic performance defensively and the lads showed great courage to try and pass their way up the pitch at a difficult place to come."
Winger Abraham Odoh and midfielder Levi Sutton both picked up injuries over the course of Saturday's contest, but Weaver is hopeful that both men – and unwell striker Luke Armstrong – will be okay in time for Tuesday's home showdown with AFC Wimbledon.
"Ibby was struggling with cramp immediately after I made my last substitution, so we basically had to play with a manikin there for the last 10 minutes, but he carried on like a Trojan until the end of the game," the Harrogate chief added.
"It's just cramp, he will be fine for Tuesday. Levi was worried about his rib, he took a real whack. I thought he was fantastic, and hopefully he will be okay too.
"I hope Luke Armstrong can come back into the squad as well. He was ill throughout the night on Thursday and was unable to travel."
Saturday's success lifts Town two places to 16th position in the League Two standings, where they now sit seven points clear of the bottom two.