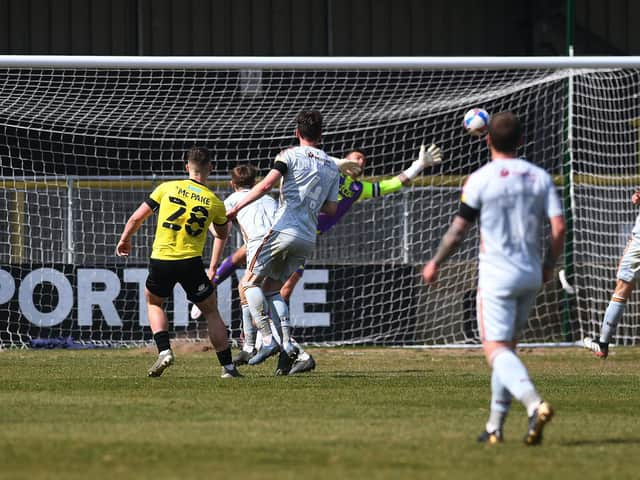 Josh McPake curls home Harrogate Town's late winner against Bradford City. Pictures: Jonathan Gawthorpe
The Sulphurites pulled off something of a coup, beating off reported competition from a host of League Two rivals including Salford City and Forest Green Rovers to land the highly-rated Glasgow Rangers winger on a loan deal until the end of the season.
Manager Simon Weaver's friendship with Gary McAllister – No 2 to 'Gers chief Steven Gerrard – helped tip the balance in the North Yorkshire outfit's favour and big things were predicted from the Scotland youth international.
A low-key debut followed in a narrow defeat at top-of-the-table Cambridge United, though 19-year-old McPake was thrown in at the deep end in that game when he was handed a starting berth having barely even had chance to train alongside his new team-mates.
Josh McPake looks for a route to the Bantams' goal.
The early signs were however promising. His second outing, against Salford City, saw him showcase the pace, power and quick feet that have seen him earmarked as a player with a big future north of the border.
Twenty-five minutes into his third appearance for Harrogate, he stepped things up a notch further, dancing into the Tranmere Rovers box to net a fine solo effort. There were notable contributions during victories over Newport County and Crawley, but a lot of the performances which followed lacked consistency.
McPake could beat defenders for fun, but more often than not, he would hold onto the ball too long, fail to get his head up, and ignore team-mates in better positions. On too many occasions, there was either little or no end product.
Yet, none of this should really come as a surprise. The only reason a club of the size of Glasgow Rangers have loaned a player of the caliber of McPake to arguably the smallest club in the English Football League is to help with his development.
For most players, the transition from academy football to the senior game is tricky. Only regular first-team football enables youngsters to iron out the faults in their games and gives them an opportunity to learn, flourish and grow.
Regular starting opportunities are clearly exactly what Weaver promised McAllister and Gerrard back in January and indeed, McPake has been included from the get-go in 20 of the 22 fixtures Harrogate have completed since his arrival.
Since Easter, the benefit of the exposure to League Two football that the flying wideman has been given has been increasingly noticable week-on-week.
Introduced as a half-time substitute against Walsall on Good Friday, McPake has grown in confidence and effectiveness with each passing match.
And, his improvement has been tangible over the last seven days as a late equaliser against Leyton Orient in midweek was followed up by a stunning winner against Bradford City on Saturday.
"It was a long time coming, I had a few chances in the game, so thankfully I put that one away at the end," said McPake of the cultured 89th-minute strike which he curled around Richard O'Donnell from the edge of the Bantams' penalty area.
"All my goals have come from that kind of area, so when the ball came to me on the left wing I kind of had an idea of what I was going to try and do and I pretty much knew it was going in from when I hit it.
"It was good, sometimes I get a bit frustrated with my finishing, so I was very pleased, I've been working hard for it.
"I can always clean up, I'm never going to be perfect, but I definitely feel like I've been getting better the more games I've played.
"Coming from academy level it is always hard to make that step up to first-team football, but I've enjoyed every minute that I've been at Harrogate. I've played a hell of a lot of minutes and I'm very happy with my progress over the last few months."
The opportunity to strut his stuff on better playing surfaces at Walsall and Bolton, plus the growth of some additional grass on the sand pit at the EnviroVent Stadium has certainly been a contributing factor to the growing influence of a player whose main strength lies in his willingness and ability to take on opponents.
"Not to blame the pitches, but it was tough over winter time when the pitches naturally get cut up, but they've been much better and so I feel a bit more confident with my feet," he added.
"Earlier on in my loan here I was getting a bit frustrated because things weren't coming together as often as I would have liked but now I'm starting to feel a bit more confident with my finishing and it is all starting to come together now.
"There is definitely more to come, however. I'm not done yet. Obviously we've got another four league games and then the [FA Trophy] final at Wembley so I want to finish my loan on a high."
Jack Muldoon fired Harrogate into a 22nd-minute lead against City on Saturday, and although Andy Cook drew the Bantams level, McPake decided matters late on, securing the hosts' League Two status in the process.