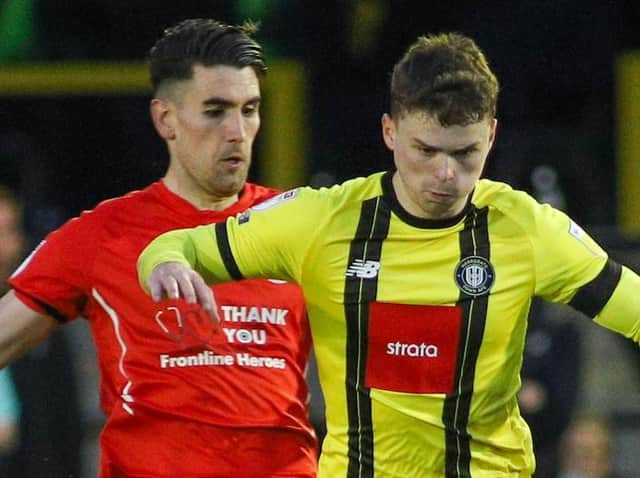 Josh McPake in action during Harrogate Town's 2-2 draw with Leyton Orient. Pictures: Matt Kirkham
Covering Tuesday evening's League Two clash between Harrogate Town and Leyton Orient was a bit of a strange experience.
The Sulphurites served up what Simon Weaver went on to describe as one of their most complete 90-minute performances since promotion to the Football League and there was plenty to like about their work on the night.
In the end, the overriding feeling was one of relief that I wasn't going to have to write about a sixth defeat in seven and pick the bones out of another match where Town were the architects of their own downfall – although I'm not a supporter, I take no pleasure from seeing the club I report on struggle.
A trio of Orient players converge on Josh McPake in a bid to stop the flying winger in his tracks.
After the final whistle, a draw felt like a very positive result, and given the way the game panned out, you could see both Harrogate's players and management were happy enough with the outcome.
But, during what was an enjoyable spectacle on a beautiful sunny evening, there were moments of despair and serious frustration.
The hosts' first-half display was excellent. Their intensity was too much for a very decent O's side packed with both experience quality.
When you consider the difference in the quality of the pitch, Town's play was, in my opinion, a step up from their very good opening 45 against title-chasing Bolton Wanderers at the weekend.
But, despite performing well and creating some clear goal-scoring opportunities, Weaver's men once again failed to stick the ball in the back of the net.
It's almost as if games at the EnviroVent Stadium are following a script. The last four home matches have all unfolded in fairly similar fashion in as much as Harrogate have missed clear chances and gone into the interval with a nil to their name.
The last three have all see them play some decent stuff in the first half while lacking cutting edge then get stung with a bit of a sucker-punch either immediately or not too long after the resumption.
Prior to Tuesday, their last three home encounters have ended 0-1, 0-1 and 0-2.
On this occasion, the script was re-written as Town finally broke their six-hour-long goal-drought on home soil when Dan Jones headed in a George Thomson free-kick.
But, although there was a plot twist, it appeared that there would once again be no happy ending for Weaver as yet another bit of awful defending gifted Orient a second goal.
Having witnessed a few weary Harrogate heads visibly drop after they have conceded in recent weeks, I didn't foresee the barnstorming finish to the evening which ensued.
When Jack Muldoon's poor spot-kick was saved by Lawrence Vigoroux, I was convinced that this was not going to be the Sulphurites' night – but then up popped Josh McPake to level matters at 2-2.
Yes, there was almost a last-gasp sting in the tail when only a fine save from James Belshaw denied Danny Johnson from point-blank range, however Town engineered more than enough threatening situations to have netted a third of their own, only to be let down by some tame finishing in and around the box.
So, huge credit to the Harrogate players for breaking the cycle and to a couple of their attacking players in particular.
Having highlighted how much the quality of Josh March has been missed up top in last week's column, I have been really impressed by Jon Stead's contribution following a long spell out in the cold.
The veteran is, of course, nothing like March in terms of the way he plays, but the extra bit of nous and craft he has added in the final third during the last two matches has made a real difference.
Meanwhile, McPake was probably the star of the show against Orient and there are signs that he is starting to find his rhythm.
He looks to be getting better and better when you consider his performances against Walsall, Port Vale, Bolton and the O's. Presumably, such a technical footballer has been helped by the improving pitches he's had to work with of late, but the signs are undoubtedly more encouraging.
Having come through the academy system at a big club like Glasgow Rangers, I doubt very much that he has experienced too many playing surfaces as tricky to negotiate as the one at the EnviroVent Stadium has been over the winter.
His greatest strength is his ability to run with the ball at his feet, and when the pitch is uneven and unpredictable, it can't do a player of his ilk any favours.
It also shouldn't be forgotten that it took Sunderland loanee Jack Diamond a while to hit form in Town colours last term.
His initial form down the Harrogate left was extremely inconsistent but he blossomed into a huge asset once he got a run of games under his belt and is now doing very nicely in League One.
I remember being critical of him for losing the ball too often, not releasing the ball to players in better positions and failing to produce an end product.
The same things have been leveled at the Rangers youngster since his January arrival, but part of the reason that talented young prospects like Diamond and McPake get loaned out to lower league or non-league teams is to learn their trade.
Given what we've witnessed during the previous fortnight, the next few weeks could be exciting if McPake continues on his current trajectory, and perhaps we will see him light up the final month of the season the same way Diamond did in 2020.