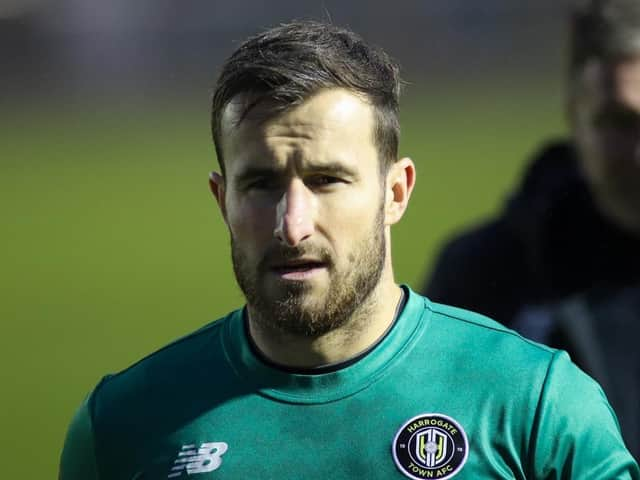 Harrogate Town goalkeeper James Belshaw. Pictures: Matt Kirkham
Despite his best efforts, the League One Tangerines were able to net four times without reply in the second period of Saturday's clash at Wetherby Road and the 31-year-old goalkeeper admitted that he left the field "gutted" by the scoreline.
Town, currently negotiating their first-ever season in the Football League, did however head into the match as big underdogs, and Belshaw is certain that this weekend's disappointment will evaporate immediately as long as he and his team-mates bounce straight back against Scunthorpe United on Tuesday.
"It's a bit flat in the dressing room. We're disappointed. You look at the scoreline, I don't think it's a 4-0 game," he told the Harrogate Advertiser.
Warren Burrell shifted from centre-half to right-back as injuries forced Town to completely re-shuffle their back-four.
"It hurts a bit, the score-line. The missus won't be happy because I'll be sulking tonight and tomorrow.
"First half especially and the start of the second half, we were more than in the game, but, when you're playing against a team from a higher league you can get punished and we've conceded four goals.
"For me, conceding four goals, I'm gutted, but it's not one to be too down about, it's a free-hit in the FA Cup and I'd rather lose 4-0 today and win on Tuesday than the other way around.
"Everyone wanted to get into the third round and get a glamorous tie, but for us it's about concentrating on the league and the Scunthorpe game in a few days time. That's what is important for us."
Having found himself a virtual spectator during the opening period, Belshaw was beaten four minutes into the second when Town captain Josh Falkingham inadvertently headed Luke Garbutt's inswinging corner from the right past his own goalkeeper.
The Harrogate custodian's stand-out moment then came on the hour-mark when he saved from Ben Woodburn before somehow recovering to then deny CJ Hamilton on the follow-up with a stunning piece of athleticism.
"The first shot [from Woodburn] I've got a hand on it and it's gone back into a dangerous area. Then, I'm diving back across to my left and I've flicked the follow-up behind me and past the post, somehow.
"But, that's what I can do, I back myself to play at this level and above but regardless of saves you make and even though I feellike I'm playing well you come away and it's 4-0.
"We've conceded four and there are things we need to look at and put right."
Town's cause certainly wasn't aided by the fact that three members of their first-choice back-four all missed Saturday's clash through injury, though they will still doubtless be disappointed with the nature of some of the goals they conceded.
Blackpool's second arrived from the corner which followed Belshaw's impressive double-save, Jake Lawlor's clearing header landing at the feet of Grant Ward, who shot through a sea of bodies from 20 yards out for 2-0.
Two more good stops from Belshaw saw Hamilton thwarted on two further occasions before the Tangerines netted twice in the closing minutes through Jordan Gabriel and Dan Kemp.
"We need to shore things up a little bit, like we did at Mansfield, but we've had to line-up with a completely makeshift back-four because of the injuries we've got," Belshaw added.
"You've got two centre-halves who haven't played much football and your two centre-halves from Tuesday night having to play in the full-back positions. Connor Hall is filling in at left-back, something he's never done before and it's a big difference for a centre-half playing left-back.
"Playing against a good League One side with that back-four is hard. First half, we shifted well and they couldn't break us down. You can't fault the effort or desire but we needed to be a bit more solid all over.
"We'll watch all the goals back on Monday and look at how we can do better."