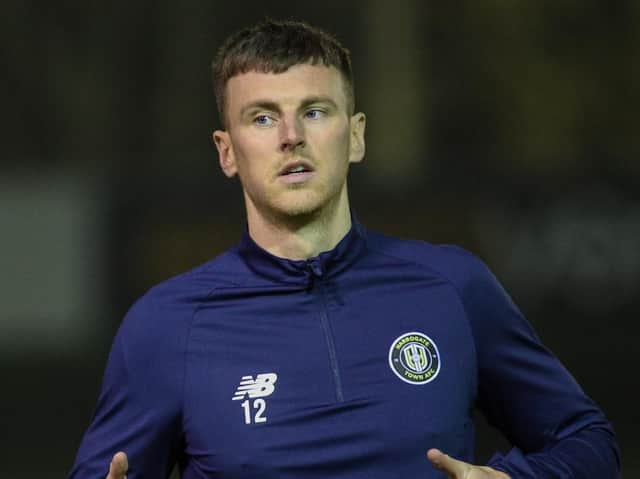 Harrogate Town defender Jake Lawlor warms up at the EnviroVent Stadium. Pictures: Matt Kirkham
The 29-year-old made his Football League debut for the Sulphurites in Saturday's 1-1 draw with Crawley, replacing Will Smith at the heart of Simon Weaver's back-four.
And, with hamstrung Smith set to be sidelined until January, Lawlor is in pole position to take over next to Hall following a positive showing against the Red Devils.
Thus, developing a swift rapport with his team-mate is top of the former Wrexham stopper's agenda.
Jake Lawlor made his EFL debut against Crawley Town.
"Connor is a great player and it was good to play with him because we hadn't played together before," Lawlor said.
"We do play together in training in the old versus young games – we are the older lads and Will and Kevin [Lokko] play for the younger team – but it's hard as centre-backs, you've got to play together a few times before you get to know each other's strengths and weaknesses.
"Obviously, I've been able to watch him quite a few times but he hasn't been able to watch me much, so it's just about building that rapport together.
"We've got a few days rest then we'll hit training hard and hopefully go and beat Leyton Orient on Saturday."
Lawlor's three previous appearances in Town colours have all come in cup competitions, with two of these fixtures taking place during the last fortnight.
The opportunity to get some much-needed game-time under his belt has been warmly-welcomed by the 6ft 4 in defender.
"I haven't played a lot in the last eight months. The three games that I have played, they're the only games I've had since March. It's not a lot of games, and I need them to be sharp," he added.
"So, three lots of 90 minutes in a week,hopefully I can build on that. I've just got to try and do as well as I can and keep improving.
"It's a shame for Will and I never wanted to play because of an injury, but it's come about and I've just got to try and do as well as I can."
Following six years as a trainee at Manchester United, Lawlor's career up until this season has been spent exclusively in non-league, including a spell with Harrogate Railway during 2012/13.
Saturday's appearance against Crawley was his first-ever in the Football League and, having had a taste of the EFL, he is hopeful that there is plenty more to come.
"It's a good achievement for myself, a nice moment, a little milestone," he said.
"I was delighted to get my chance. I thought I did quite well second half. First half, I thought I did okay.
"It's been coming a long time, I'm 29 now, but I don't want to rest on that, I want to try and get as many appearances as I can and keep doing well."