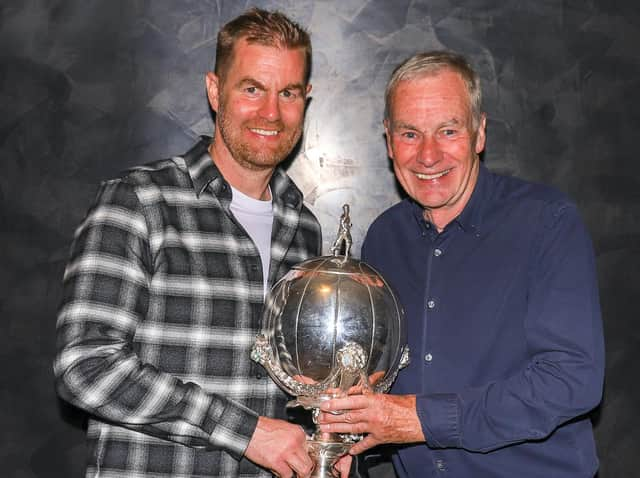 Harrogate Town manager, Simon Weaver, and chairman, Irving Weaver, with the FA Trophy. Picture: Matt Kirkham
The Sulphurites who have played all but two of their 2020/21 home fixtures behind closed doors due to social distancing measures aimed at preventing the spread of Covid-19, beat Concord Rangers 1-0 at Wembley on Bank Holiday Monday.
That success propelled them back into the national spotlight, but having been unable to capitalise on last summer's National League play-off final win over Notts County, the novelty of their subsequent promotion to the Football League and a Carabao Cup showdown with West Bromwich Albion, Town's chairman is desperate to tap into the feel-good factor that is radiating from the club once again.
"This is the biggest point following the Trophy final, for me. The big question is 'to what extent will we have attracted new support?'" Weaver told the Harrogate Advertiser.
"We missed out at the beginning of last season following the first Wembley win, the promotion, EFL fixtures for the first time and a positive start. We wanted to have captured that momentum because growing our fan-base is so important.
"We're a small club. We're always going to be up against bigger names, so revenue through the gates is a big factor in enabling us to compete, but it's also about having vocal support and creating an atmosphere inside the stadium because those things matter too.
"We just hope that people haven't forgotten about us and that the Trophy final will serve as a reminder and draw people to the ground.
"We do need to boost the crowds. I have no idea how many more fans we will get through the gates when we're finally allowed them back, but if we could get attendances up by a third and then grow it again from there, we'd be pretty happy."
It is not just the club's second Wembley win in the space of nine months that Weaver believes will be key to enticing additional numbers to the EnviroVent Stadium on a Saturday afternoon.
"If you're doing well and playing good football then of course that is very important," he added.
"The pitch has been a problem this season. It didn't have time to bed in properly so it has been difficult to play attractive football at home.
"But, the grass will be sorted this summer and hopefully next season we will see a return to the style that Simon [Weaver] and his team have delivered in recent years.
"Also, with the additional seating we have in the new stand we hope to offer a better match-day experience for everyone and be able to attract more families.
"A busy stadium is crucial if you want to be a successful football club."