How Harrogate Town are preparing for National League play-off final at Wembley
The big day is here. By the end of this afternoon, Harrogate Town will know whether they are going to be playing their football in League Two next season.
Sunday, 2nd August 2020, 11:11 am
Updated
Sunday, 2nd August 2020, 11:14 am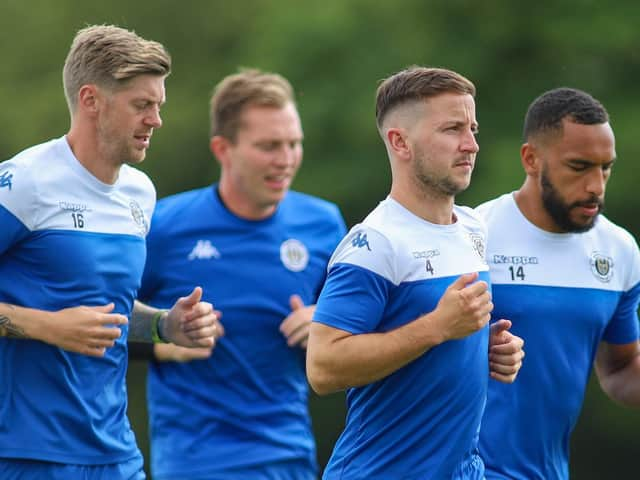 Harrogate Town players trained on Saturday ahead of Sunday's National League play-off final against Notts County. Pictures: Matt Kirkham
Simon Weaver's team tackle Notts County at Wembley (3pm) in the National League play-off final, with the victor set for promotion to the Football League (EFL) for 2020/21.
Going up would of course be massive for both clubs, but if Town come out on top this afternoon then history will be made as they head into the EFL for the first time in their 106-year existence.
And, with so much at stake, how are the Harrogate players preparing for such a massive game?
Town winger Brendan Kiernan bursts between Kian Harratt and Ryan Fallowfield during a training session the day before the club's first-ever Wembley appearance.
The answer is that they are attempting to do everything the same as they usually would do for a fixture away from the CNG Stadium.
Since their promotion to the fifth tier in 2018, Town have traveled to all away matches (with an afternoon kick-off time) that involve more than a couple of hours on the road, the day before.
Things were no different on Saturday as they set off for London via coach, stopping off to train somewhere close to their destination, as they always do.
On this occasion, their surroundings were somewhat grander that usual, with Premier League Watford permitting Weaver and his men the use of their St Alban's training facility.
From there, the squad headed to their hotel, not far from Wembley, where they dined together and watched Arsenal beat Chelsea in the FA Cup final.
Today (Sunday) will again follow the usual pre-match pattern.
"After breakfast, we'll all go for a walk together as we like to do when we stay over for away fixtures, then it will be team meetings and our pre-match meal," boss Weaver revealed.
"It'll be beans on toast. We won't be changing anything, we're just trying to treat this the same as any other game.
"The players were floating on air after beating Boreham Wood and setting up a Wembley final. They were the same at the start of the week, but everyone's feet are firmly on the floor now.
"Obviously, this is such an exciting time for everyone involved, but we're focused on what we need to do."