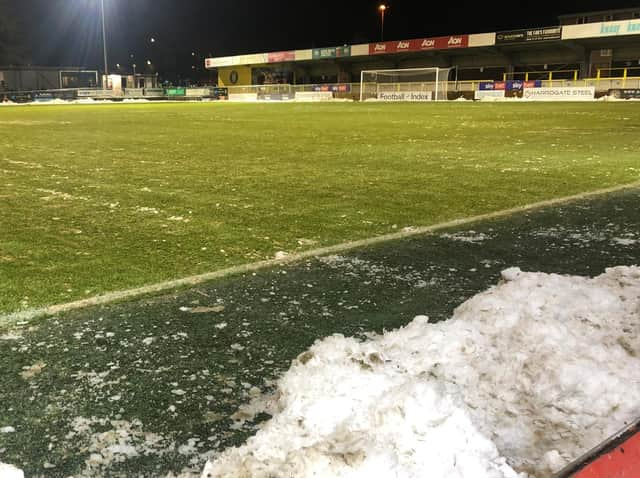 The scene at the EnviroVent Stadium following the abandonment of Harrogate Town's midweek clash with Carlisle United.
The postponement comes just five days on from the disappointment of the Sulphurites' game against Carlisle United being abandoned for the same reason. Simon Weaver's men led 1-0 at the time.
Despite the recent cold weather, the club was confident that Saturday's fixture would go ahead, only for a drop in temperature overnight to leave them with no choice but to call the match off.
"We took the frost covers off this morning and the overnight temperatures have completely frozen the pitch. It's hard all over," Town's general manager Ben Sadler revealed.
Ben Sadler, Harrogate Town's general manager. Picture: Matt Kirkham
"The match official came and inspected [at 11am] and everyone was in agreement that the surface was unplayable.
"Obviously, we'd have loved to have got the game on, particularly after the way we started against Carlisle on Tuesday night before that one was called off. But, unfortunately, the weather is beyond our control."
Town next's scheduled League Two outing is at Cambridge United on Saturday, January 9.