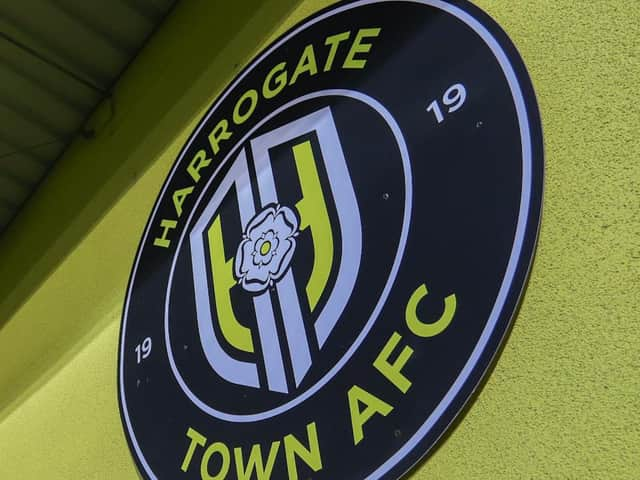 Harrogate Town are due to host Cheltenham Town at the EnviroVent Stadium on Tuesday evening. Pictures: Matt Kirkham
Snow has fallen as temperatures have plummeted in North Yorkshire over the last 48 hours, but the Sulphurites' pitch has been protected by frost covers and is currently in "perfectly playable" condition, according to Ben Sadler, the club's general manager.
There is some snow left on the ground in the Wetherby Road area, though with the sun shining down on the EnviroVent Stadium on the morning of the game, Town's major is concern is whether their playing surface starts to freeze later in the evening.
The Met Office has forecast that temperatures in Harrogate will drop below zero after 5pm and fall further to -2 °C. by 6pm, the time the game is scheduled to kick-off.
Harrogate Town's previous home outing ended in a 2-1 success over Newport County courtesy of goals from Josh March, pictured, and Aaron Martin.
"The pitch is perfectly playable at this moment in time," Sadler told the Harrogate Advertiser shortly after 11am on Tuesday morning.
"It's fine. It's soft underfoot. The frost covers went on on Saturday and are doing their job brilliantly. If you took them off now and the game kicked-off straight away, there would be absolutely no problem with the surface.
"The issue is the forecast. It's going to get colder again tonight and so obviously there's a chance that the pitch will freeze once the covers come off.
"We will leave them on as long as possible and the match referee will obviously have a look at the surface at around about 4pm when he arrives at the ground.
"Obviously we would very much like the fixture to go ahead. We're playing well at the minute and in good form."
Town were originally due to entertain Cheltenham on January 2, but the fixture was called off due to the Wetherby Road pitch being frozen.
Last month's visit of Exeter City also ended up being postponed for the same reason, while the Sulphurites' clash against Carlisle United on December 29 was abandoned after 10 minutes of play with the home side leading 1-0 because referee Martin Coy decided that the surface had become unsafe.
Despite this disruption to their schedule, Simon Weaver's team have been in decent form of late. They have lost just one of their previous five matches, and won both of the last two, beating Newport County 2-1 on home turf prior to Saturday's 3-1 success at Crawley Town.