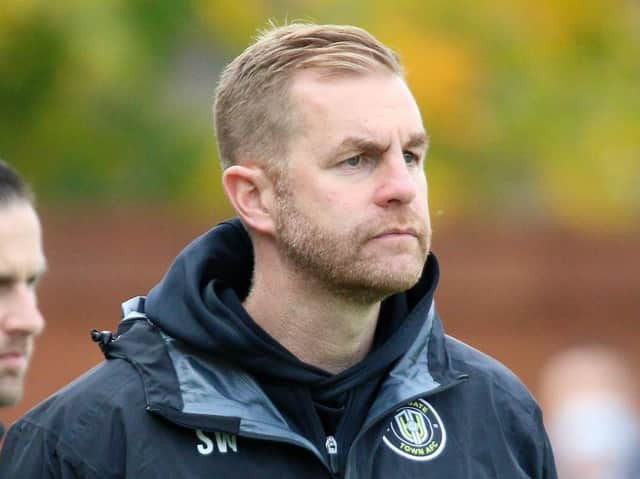 Harrogate Town manager Simon Weaver. Pictures: Matt Kirkham
The combination of a number of positive Covid-19 test results in both their own and other camps, the winter weather, and a power-cut in North Yorkshire has led to no fewer than nine of the Cumbrians' scheduled fixtures being called off since the turn of the year.
Chris Beech's team won 2-0 at Walsall on January 2, then had to wait almost a month to tackle Exeter City, again coming out on top as they triumphed 1-0 on January 30.
Three days later, they lost 2-1 to title rivals Forest Green Rovers at Brunton Park, but have not kicked a ball in anger since, with recent clashes against Leyton Orient and Crawley postponed due to frozen pitches.
Players from both sides confront the match officials after December 29's clash between Harrogate Town and Carlisle United was abandoned after 10 minutes.
As a result, United could understandably be expected to show some signs of rust when they face the Sulphurites at Wetherby Road this week, a fortnight on from their last competitive match.
They are however a team still very much in contention to go on and win League Two outright, sitting seven points behind current leaders Cambridge United but having played six games less.
And with a win-ratio this term of 56.52 per cent - far greater than anyone else's in the division - there is no danger of Harrogate chief Weaver underestimating the task facing his players at the EnviroVent Stadium.
Asked whether he felt Carlisle's inactivity could be an advantage, the Town boss replied: "Well, I hope so, but you don't pin your game-plan on them being short of football and think we'll just run through them. There's more to it than that.
"It's certainly going to be a big challenge. They've done brilliantly and are up there for a reason, so we've got to be really up for it because they could end up winning the league, could Carlisle.
"We are just looking forward to a really big challenge and if we can do well against Carlisle then it's going to be another massive boost for the confidence."
United have already visited Harrogate twice this season. On December 29, the initial meeting between the sides was abandoned after 10 minutes of play with Town leading 1-0 because referee Martin Coy decided that the pitch was freezing and had become unsafe.
The fixture was rearranged for January 12, only for a power-cut which affected a number of properties in the Wetherby Road area including the EnviroVent Stadium, to prevent that contest from even kicking-off.
Weaver is however confident that it will be a case of third time lucky this week.
"Looking at the forecast, finally the temperatures are up and we should have a game on but it's going to be a big challenge for us."
Kick-off at the EnviroVent Stadium on Tuesday night is at 7pm.