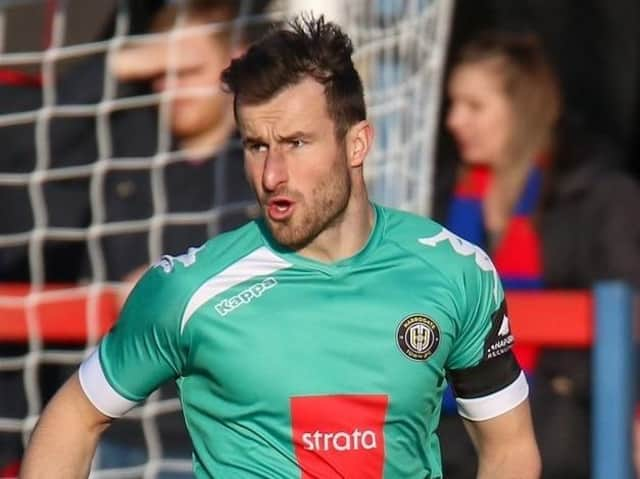 James Belshaw has made 144 starts during his three years at Harrogate Town. Pictures: Matt Kirkham
The 29-year-old goalkeeper suffered a blow to the thumb on his left hand during the club's very-first pre-season training session of the summer, fracturing a bone and damaging some of the surrounding ligaments.
This ruled him out of the opening week of 2020/21, but having been examined by a specialist, Belshaw was told that he could be in with a chance of featuring against Southend United on Saturday.
A follow-up examination has however revealed that although his injury is healing nicely, there is no way that he will even be able to resume training until September 21.
Joe Cracknell is set for an extended run between the sticks.
"I'm absolutely devastated," Belshaw told the Harrogate Advertiser.
"In the space of a week we've got our first-ever League Two fixture, we're going to West Brom in the Carabao Cup, then playing my boyhood club [Notts County] for a place at Wembley before coming up against Walsall, one of my former sides. I couldn't have picked a worse week to miss.
"There are some landmark occasions coming up and, having played almost every game in the three years since I came to Harrogate, and helped us to get where we are, it's really frustrating for me personally.
"I desperately wanted to be able to play my part in the our first-ever game as a Football-League club, but it is what it is. Injuries are part and parcel in football and I've been pretty lucky throughout my career, so I've just got to get on with it.
"I'll still be my usual self around the group and supporting the rest of the boys and I'm confident that we'll pick up some good results."
Belshaw, who has started 144 matches since joining Town in the summer of 2017 and kept 47 clean-sheets, did receive at least some good news at his latest consultation.
His surgeon has ruled out the need to operate on his damaged thumb, much to the ex-Walsall stopper's relief.
"It could have been worse," he added.
"The specialist has finally ruled out me needing surgery. If I'd had to have an operation then I'd have been unable to play until Christmas, so I'm grateful for that.
"They tested the ligaments and I've got some strength back there, which shows that it is healing.
"I've just got to be careful because if I come back too soon then I could do long-term damage to my thumb and obviously I need my hands.
"I should be able to start some light training on September 21, so I'm just looking forward to that now."
Joe Cracknell has deputised between the sticks in Belshaw's absence and, as disappointed as he is to be sidelined, Town's number one insists that he is happy to see his good friend performing well.
"While this might be a bit of a kick in the teeth for me personally, I'm still 100 percent behind the team and genuinely pleased for Crackers," he added.
"I knew that he'd do fantastically well given the chance, and nobody was happier for him than me when he saved those penalties in the shoot-out at Tranmere.
"Crackers, Phil [Priestly - goalkeeping coach] and myself have a really close bond. We've all been working together for three years, so we're in it together.
"Both Phil and Crackers have supported me immensely when I've been playing the majority of the games, so of course I'm here for Crackers now and I'll work with him and do everything I can to help him while he's in the team."