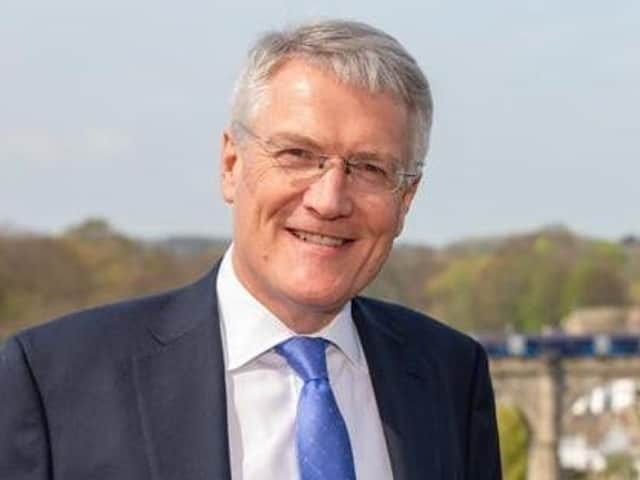 Andrew Jones, MP for Harrogate & Knaresborough.
The Harrogate & Knaresborough MP is backing Sulphurites fans' bid to persuade the Football Association to change its decision to hold 2019/20 Non-League Finals Day behind closed doors on May 3.
Jones has contacted the game's governing body regarding the matter, has harnessed further political support and also revealed that he plans to raise the issue during Prime Minister's Question Time in the House of Commons.
Originally scheduled to take place in September, Non-League Finals Day - which comprises the FA Trophy and FA Vase finals - was postponed due to the fact that Government Covid-19 restrictions meant that spectators would not be allowed inside the stadium.
Phillip Holdsworth, Supporter Liaison Officer at Harrogate Town.
Thus, it was widely expected that the event would be re-scheduled for a date when at least a limited number of fans would be permitted entrance, only for the FA to announce earlier this month that the fixtures would be played a fortnight before crowds are able to return to sporting venues.
Town supporters, who have already missed their team's maiden Wembley appearance - a 3-1 National League play-off final triumph over Notts County in August - were left devastated by the news.
And, having been led to believe that their clash with Concord Rangers would be rearranged for a time when they could be there to share in the experience, Harrogate fans launched a petition urging the FA to re-think its plans.
Phillip Holdsworth, Town's Supporter Liaison Officer, set up that petition and was this week able to have a "positive" conversation with Jones regarding his stance on the matter.
"I spoke to Andrew Jones on Tuesday morning and was really pleased to discover that he has been quite proactive about the whole Non-League Finals Day situation," he told the Harrogate Advertiser.
"He has been in touch with the MPs from the areas where the other three clubs who are involved on the day are based and, even though these were cross-party discussions, they've all agreed that a change of date would be a good thing and to press the FA on this matter.
"He told me that he's spoken with all four clubs and has had a conversation with Harrogate Town chairman Irving Weaver.
"Probably the biggest thing is that he's managed to contact the FA directly. Publicly, they've been very quiet, but Andrew Jones assures me that they are discussing the possibility of altering their plans.
"He is quite persuasive and he intends to raise the the matter during Prime Minister's Question Time this week.
"He is very keen for the date to be moved so that fans can attend. He himself would like to be among those supporters cheering Harrogate Town on at Wembley."
Given how well his discussion with Jones went, Holdsworth admits that he was left "feeling more positive" about the chances of Town fans actually being able to enjoy what will be an historic occasion alongside their team.
"Nothing is certain at this stage, but this is more positive news," he added.
"At least the FA has taken notice and are listening to supporters. There is dialogue behind closed doors and they are discussing a different way forwards. That is encouraging.
"If the change in date isn't an option, we've put forward another suggestion regarding the possibility of using Non-League Finals Day as a test event for the return of fans - like the FA Cup final.
"We are doing our best to make ourselves heard and it seems that people are actually listening. I am feeling more positive about the situation than I was.
"I am hopeful that a solution can be put forward that will make the fans of all the clubs concerned happy."