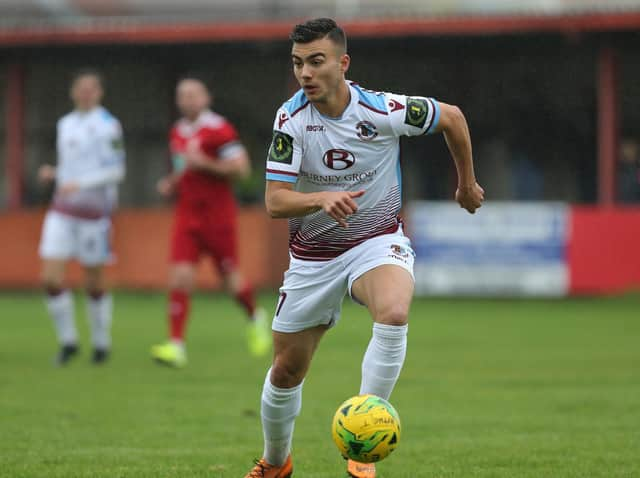 Davide Rodari in action for Hastings United. Picture: Scott White
Hastings United claimed on Thursday that the National League high-flyers were one of a number of teams with a "strong interest" in goal-machine Davide Rodari.
Yet, while the Town boss revealed that he has recently watched video footage of the 20-year-old former Inter Milan junior, he said that there is no move in the offing.
"I've seen a four-minute video clip of the player, we've made no move or contact and the likelihood at this stage is that we won't be doing," Weaver said.
"We've just been looking at a video, and I've watched two or three videos of other players just this morning.
"We would need to go watch a target play before we even thought about doing anything, and if we were interested, we would always make a proper approach to the player's club.
"You've got to be aware of where all the goalscorers are in the lower leagues. We are always on the look-out."
Prior to his arrival in England, Rodari spent time in Inter Milan's youth set-up and has also had spells at Serie C outfits Novara and Pro Vercelli, as well as a stint playing in Switzerland.
So impressive has he been in front of goal since joining Hastings, the Italian was reportedly on the verge of a dream move to a Championship club in 2018, only for an untimely achilles cruciate ligament injury to curtail the proposed transfer.
Despite the serious nature of his injury keeping him out for some time, he did however pick up where he left off on his return to action in March 2019, finding the back of the net just 14 minutes into his comeback appearance.
And the goals have continued to flow for Rodari in Isthmian League South East this term, the hitman registering eight times in the same game against East Grinstead in November.
Thus, Hastings are expecting bids from a host of clubs higher up the footballing pyramid, now that the January transfer window is open.
"It's true Harrogate have shown strong interest but no formal offer has materialised," club CEO Billy Wood said.
"Am I shocked we have been approached on Davide? Absolutely not. Davide is a fine example of what this club is looking to do in a sense of development and growth.
"If Harrogate think they are the only club, they are wrong, we have had league clubs show serious interest too.
"We have to think ahead and be very clinical how we get things done, you have to look at the scenarios and think about the knock on effect.
"I wouldn't say we have to be a selling club but we are a family club and you have to do what's right for the players to curate the culture we are building on and off the pitch."