Harrogate Town 1 Stockport County 3: Simon Weaver not 'too despondent' after third consecutive home defeat
Simon Weaver doesn't believe there is any need for Harrogate Town to be "too despondent" following Saturday's home defeat to a Stockport County side whom he believes will go on to be crowned League Two champions.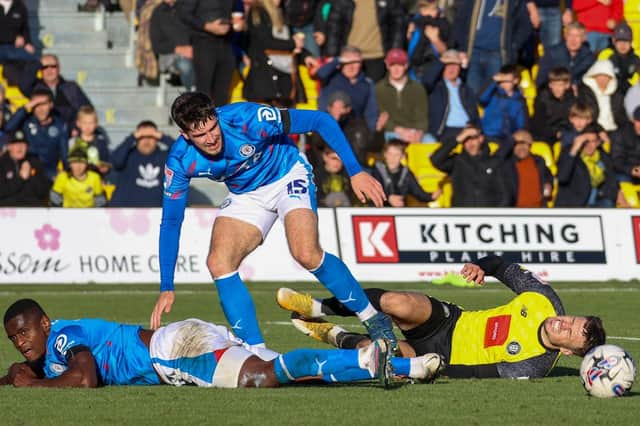 Having been turned over by AFC Wimbledon and Accrington Stanley in their two previous outings at Wetherby Road, the Sulphurites were beaten again on their own turf, losing out 3-1 to the league leaders.
George Thomson bagged a late consolation goal from the penalty spot, but that was as good as it got for the hosts, who trailed from as early as the 14th minute, with Antoni Sarcevic's strike followed after the interval by a Warren Burrell own goal and Will Collar's header.
Things could however have panned out rather differently had Josh March's effort at 0-0 dipped under the cross-bar rather than bouncing back off it, while Matty Daly was also denied twice in one-on-one situations.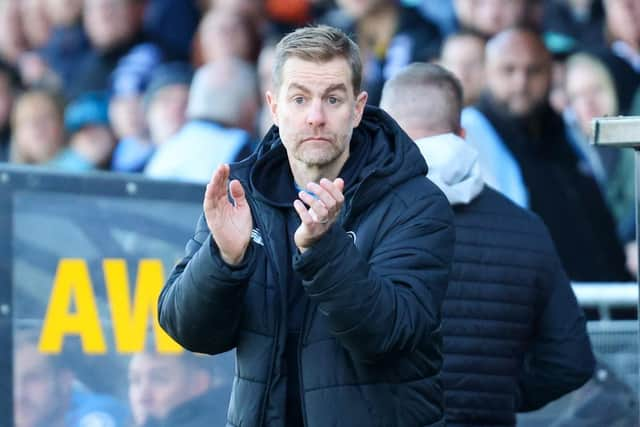 Thus, Weaver wasn't left feeling too downbeat about his players' performance.
"We're disappointed to lose the game," he said. "But, I think Stockport are probably going to be champions at the end of the day, and we knew that if we conceded opportunities, their quality would fully take advantage – and they did just that.
"So we have to live and learn from it but we're not too despondent because we also created opportunities that we didn't take advantage of.
"But there's some good build-up play and some moments, and on another day, we could have scored more than the one goal that we did and that would have narrowed the margin between us and a top team.
"We were playing some really good football. There's some real talent in our team that kept believing in the way we want to play and we prized them open a few times. We tried to throw a little bit more at it, go a bit more gung-ho and we got picked off for about 10 minutes, second half.
"The second goal was bitterly disappointing because it promised to be a tight game up until that point, and one we still believed we could get back into, but that obviously made the task harder. On another day, yeah, we could have scored more, but you certainly can't expect to concede three and win a game against a top team like Stockport."
And although frustrated to see his side lose at home for the third game in succession, Weaver said he wasn't overly concerned by that run of form, citing the overall picture as being relatively healthy with Town currently six points above the relegation zone as well as being six shy of the play-off places.
"No, I'm not concerned yet because yeah, we could look over our shoulders and think that six points gained by the bottom teams will drag us into it. But I prefer to look and believe in the lads and think that actually, we are six points from the business end of it, the promotion picture," he added.
"We're disappointed that we haven't taken anything from Saturday's game, but the lads are getting better and better.
"It's a shame that we've had a couple of wins now away from home and the crowd, the majority of the crowd haven't been there to see them. They've seen us lose back-to-back home games in the league, which is disappointing.
"But we have faith that we've got emerging talent as well as experienced players who are forging a good understanding, good spirit in there and are performing well."
Saturday's result sees Town drop to 17th in the League Two standings.