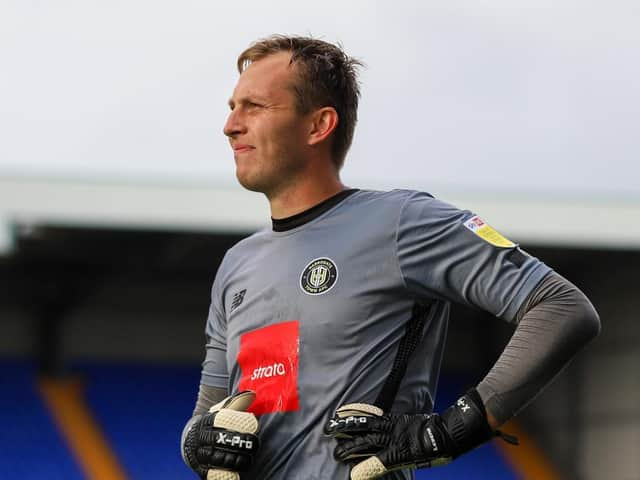 Harrogate Town goalkeeper Joe Cracknell. Pictures: Matt Kirkham
The 26-year-old saved two spot-kicks during Saturday's Carabao Cup penalty shoot-out success, helping set up a date with Premier League West Brom in round two.
And Cracknell, who is deputising for injured first-choice stopper James Belshaw, says that he will draw plenty of confidence from his performance at Tranmere when he takes to the Blundell Park turf on what will be just his ninth competitive start in more than three years at the club.
"As a goalkeeper, confidence is massive and my performance on Saturday has provided me with a nice little confidence boost," he said.
Joe Cracknell saves Tranmere Rovers striker James Vaughan's spot-kick during Saturday's Carabao Cup first-round shoot-out.
"It was my first game in quite a while and there were some nerves in the build-up. Saving a couple of penalties definitely helps though and it's settled me down ahead of Grimsby.
"Playing your part and showing what you're capable of puts your mind at ease and I don't think I'll be as nervous before the game tonight.
"My preparation will obviously stay the same, and as a team we'll be approaching this fixture just the same as we did on Saturday.
"It's another first for the club, another big game and one we're all really looking forward to. Hopefully we come away with another positive result."
Cracknell's two spot-kick saves at Prenton Park denied Tranmere's two most high-profile players - ex-Everton striker James Vaughan, who is still the youngest goalscorer in Premier League history, and former Liverpool midfielder Jay Spearing.
And he puts his ability to make those stops down to a combination of factors.
"I suppose you could say that a penalty shoot-out is win-win situation for a goalkeeper, which is pretty rare, and I'm just happy that I was able to do my bit," Cracknell added.
"Saving their first penalty kind of puts them on the back foot a little bit, and probably gave me some confidence to make the second one [which kept Town alive in the shoot-out].
"We'd done a bit of video work, looking at how some of their lads take penalties, but a lot of it comes down to what you do in the moment.
"You watch their run-ups and body language and try to read them. Sometimes it's guesswork and gut feeling, sometimes it's instinct. I just tried to make sure I didn't move too early and make it easy for their lads.
"We'd done a lot of preparation for penalties in the build-up to the [National League] play-offs and all that work definitely helped me. I've faced hundreds of penalties from our lads and I know that all that practice made a difference."
Cracknell may need to draw upon the preparation that served him so well on the Wirral once again this evening, with another shoot-out a very real possibility.
If EFL Trophy group-stage fixtures end with the scores level after 90 minutes, both sides are awarded a point each, though penalties will be taken to decide who receives a bonus point.
The match at Grimsby, which kicks-off at 7.45pm, sees Town make their debut in the competition, with further ties against Hull City and Leicester City under-21s to come.