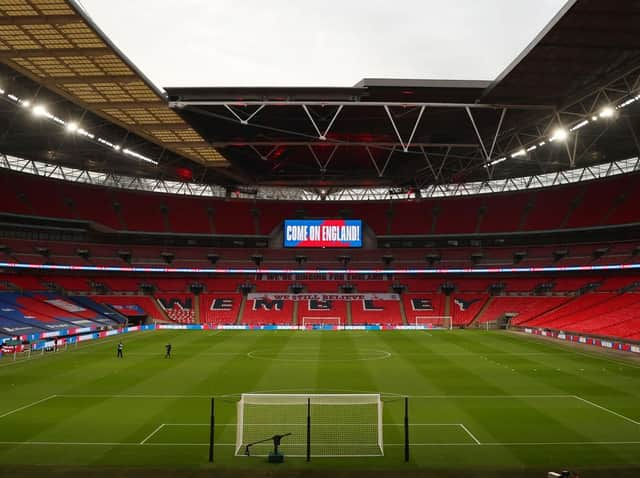 Wembley Stadium will host 2019/20 Non-League Finals Day on May 3, but no fans will be allowed to attend. Pictures: Getty Images
We all know the feeling, don't we? You're on Almsford Bank, heading home into Harrogate, stuck in a slow-moving tailback of cars, waiting patiently as you edge slowly towards the top of the hill.
Radio on, what will be will be, and then ... some impatient idiot in a flash car steams past you in the empty outside overtaking lane, before bullying themselves into the queue ahead of you.
"Don't let him in" you scream to no one in particular, but someone always does. It's enough to make your blood boil.
Prime Minister Boris Johnson encouraged the FA to reconsider its decision to hold 2019/20 Non-League Finals Day behind closed doors.
Well that was me this week. Except the flash car was trailing Tottenham and Manchester City scarves out of the windows and I wasn't on Almsford Bank, just sitting at home reading the latest FA press releases.
Despite waiting patiently for a season for our chance to go to Wembley to see Town play in our first-ever FA Trophy Final appearance, it turns out we've been overtaken in the pecking order.
This week's Government announcement designating one FA Cup semi-final, the FA Cup final and the Carabao Cup final as test events didn't come as a shock, just confirmation that, when push comes to shove, us non-league/ lower league teams really don't count in the scheme of things.
Even before the issue was raised at Prime Minister's Questions, a Government across the detail, and especially the FA, could have prioritised the 2020 Non-League Finals as one of the planned test events. It was certainly possible, as this was the initial plan back in September.
I understand the timetable being governed by Covid-19 and the desire for the FA Cup final to have a larger crowd, but the delayed Carabao Cup final a week before we're scheduled to play? It's not as if Manchester City and Tottenham fans are radically different to Town or Concord Rangers fans when it comes to contracting Covid-19.
And it's certainly not the case that they will struggle for another trip to Wembley. But we all know that non-league/lower league teams don't really count in the scheme of things when Premier League clubs are in the queue.
That leads me nicely into the other setback this week, the FA issuing a statement to the effect that, despite all their 'efforts', following the fans' petition and the Prime Minister's half-hearted mumblings for them to look at another date, it won't be possible to relocate the 2020 Non-League Finals to a new date after May 17, the day that fans are allowed back into football stadia.
Forgive me if I cast doubt on them trying that hard.
What makes it even tougher to take is that the 2021 Non-League Finals are to be played on a date when fans can attend. There goes that queue-jumping not-so-flash car, this time full of Hereford and AFC Hornchurch supporters.
Whilst I'm pleased for them and don't begrudge them their big day out at Wembley, it's a bitter pill for Town fans to swallow, leaving us having to abandon the car and walk home, with empty promises of the importance of non-league fans being able to attend the 2020 finals ringing hollow in our ears.
What exactly was the point of the delay, if promises weren't to be honoured? We may as well have played the final last year and either ourselves or Concord could have held the Trophy for a while into the bargain.
I found myself so incensed, that I fired off an angry tweet to the FA. 'That'll tell 'em,' I thought. Five days later I realised I'd sent it to the wrong Twitter account. Oh well.
Forgive me if I'm feeling a little tetchy this week, as Town's failure to score in three matches against teams all below them in the division, made it four blanks in a row and sees a return to the barren form displayed before Christmas.
I think we can write off the play-offs this year, and I'll be happier when we pick up another couple of points to see ourselves safe in League Two.
The last seven league matches see us playing six teams in the top half of the table, the kind of run of fixtures that saw us gain very few points in the aforementioned lead up to Christmas.
Our recent struggles are there for all to see: an inability to maintain decent possession, hence stretching teams by spreading the play across midfield; the resorting to a hurried game of head tennis; lack of presence and movement in the opposing box and the lack of a cutting edge in front of goal once we do fashion a chance.
The tone was set for me in the first minute of the Port Vale defeat, when Dan Jones broke forward menacingly down the left, lashing a great low cross into the penalty area, only to find it completely devoid of Town players.
Although their keeper did go on to make a few smart saves during the first half, we were ultimately undone by our inability to use the strong wind to our advantage, as the Valiants did in the second 45.
I was struck by Simon Weaver's forthright comments after the Southend defeat a week ago, where he was hinting heavily at changes to come in the close season.
If we want to keep progressing, he's right, but let's not forget that many of these players were playing in the National League North not so long ago and their achievements have been remarkable.
Although I'd love much of this squad to stay together a little longer, and it would be folly to break up the core, sentiment can't come into it and our recent form does beg the question: who is capable of taking us further?
And, in the short term, who can raise their game sufficiently to bag the FA Trophy in front of a spectator-free Wembley in a few weeks' time?