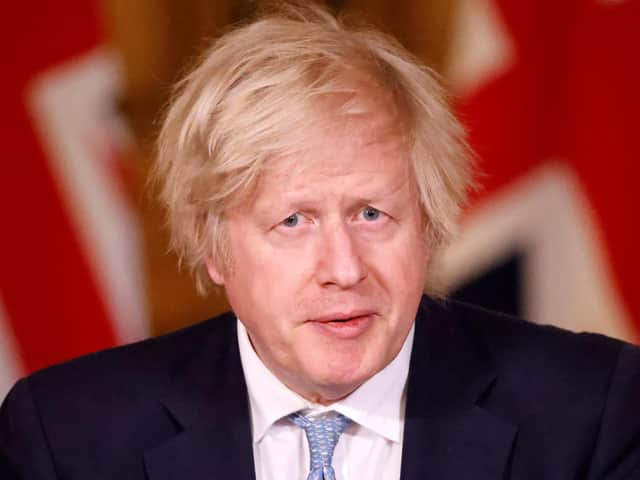 Prime Minister Boris Johnson. Picture: Getty Images
The showpiece fixture is scheduled to take place on May 3 as part of Non-League Finals Day, a fortnight before spectators are permitted to return to sporting events in this country.
This means that, as things stand, supporters of the League Two Sulphurites are set to miss out on a second trip to the home of football in the space of less than a year, having been unable to take in August's National League play-off final triumph over Notts County.
Prior to last summer, the 107-year-old club had never made it to Wembley, and thus Andrew Jones - MP for Harrogate & Knaresborough - has thrown his support behind a campaign launched by Town fans aimed at persuading the FA to reconsider its decision on staging the event behind closed doors.
Andrew Jones, MP for Harrogate & Knaresborough.
Jones raised the issue with Johnson during Prime Minister's Question Time on Wednesday afternoon, saying: "A trip to Wembley to follow their team is like a holy grail, especially for the smaller clubs.
"The MPs for the clubs involved - that's members for North West Durham, Jarrow and Castle Point and myself have raised this with the FA.
"Will the Prime Minister join us in encouraging those scheduling the matches to do all they can to move the date so that fans can attend?"
Encouragingly for Harrogate supporters, plus fans of opponents Concord Rangers and FA Vase finalists Consett and Hebburn Town, the Prime Minister replied: "I hope very much that the Football Association will listen to carefully to what my honourable friend has to say and that they do what they can.
"I look forward to May 17 when spectators, according to the road-map, may return."
Earlier in the day, Jones told the Harrogate Advertiser that the FA must "leave no stone unturned" in their search for a solution which would allow fans to attend Non-League Finals Day.
"I support Harrogate Town's call to move the planned dates for FA Trophy finals," he said.
"This can be a one-off occasion for fans of small clubs. They would want to share it with their teams. Harrogate Town supporters are no different.
"That is why I have joined other MPs whose local teams are similarly affected in writing to Mark Bullingham, Chief Executive of the Football Association, asking him to look again at the scheduling of the matches.
"Seeing your team striding out at Wembley is a special moment. For the sake of a few days or weeks delay wouldn't that be a marvellous thing for our local fans to be part of?
"I know there are difficulties surrounding the dates and the staging of the European Championships but I feel certain there is a solution to be had.
"The FA needs to leave no stone unturned to reach that solution."
Originally scheduled to take place in September, last season's Non-League Finals Day - which comprises the FA Trophy and FA Vase finals - was postponed due to the fact that Government Covid-19 restrictions meant that spectators would not be allowed inside Wembley Stadium.
Thus, it was widely expected that the event would be re-scheduled for a date when at least a limited number of fans would be permitted entrance, only for the FA to announce earlier this month that the fixtures would be played a fortnight before crowds are able to return to sporting venues.
Town supporters, who have already missed their team's maiden Wembley appearance, were understandably left devastated by the news and launched a petition urging the FA to re-think its plans.
Phillip Holdsworth, Town's Supporter Liaison Officer, set up that petition and was this week able to have a "positive" conversation with Jones, in which the MP revealed that he had spoken to the FA, who are now discussing alternatives.
"I spoke to Andrew Jones and was really pleased to discover that he has been quite proactive about the whole Non-League Finals Day situation," Holdsworth said.
"Nothing is certain at this stage, but this is more positive news. At least the FA has taken notice and are listening to supporters.
"I am feeling more positive about the situation than I was."