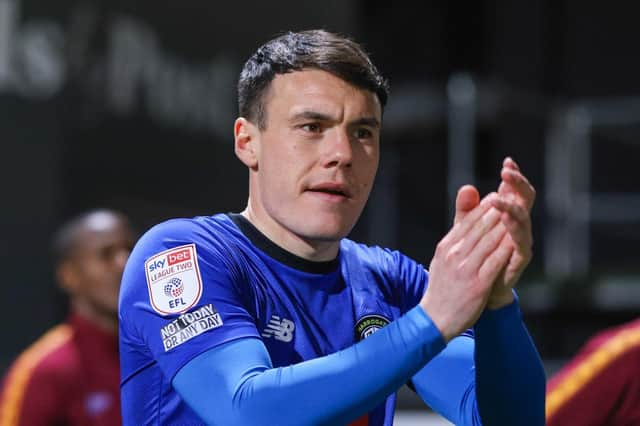 Harrogate Town right-back Ryan Fallowfield. Pictures: Matt Kirkham
The Sulphurites are still searching for some consistency following a run of just two wins in seven League Two matches and right-back Ryan Fallowfield says that he and his team-mates are eyeing back-to-back victories up in Cumbria.
The 26-year-old believes that three points could keep things interesting for 13th-placed Town as they head into the business end of the season, but he also wants to give the club's supporters another away-day to remember.
"The result at Bradford on Tuesday was brilliant and it is definitely one that we have to look to build on now," Fallowfield said following his side's 3-1 midweek triumph.
Ryan Fallowfield presses forwards during Harrogate Town's 3-1 success over Bradford City at Valley Parade.
"It's really important that we try and get another win when we go to Barrow because we are looking to be more consistent in terms of our results and our season is still not over.
"There's still 15 games left, that's a lot of football and plenty of points to play for. But we also want to reward the fans and give them another away trip to remember like we did in midweek.
"We want to give them a reason to keep travelling to these games and giving us their backing. If we can keep delivering performances and results like we did against Bradford then hopefully our support on the road keeps growing.
"It means so much to us as players. When I think back to when I was first at this club you might get four or five people at an away game. Now we're taking 700 to Bradford and there are families travelling down to Exeter on a Tuesday night. It's great for the club and we hope it keeps growing."
Tuesday saw Fallowfield make his first appearance in Town colours in five weeks having worked his way back to fitness following a hamstring injury.
He was deployed in a slightly more advanced role than the one he has played in during almost the entirety of his Harrogate career, but fared well at right wing-back.
"I was due to play against Leyton Orient on the Saturday. I couldn't wait to get back and then obviously the game got called off, which was really disappointing," the former Hull City defender added.
"I felt fine. I've done a lot of work to make sure that I was ready. Rachel [Davis] gave me a program for my rehabilitation and I was working with our fitness coach Darren Simpson as well. I also asked to do an extra session training with the youth team while the lads were away down in Exeter last week.
"I think I did okay in the wing-back role. I've played in a 3-4-2 here seven or eight years ago during my first spell, but that's a bit different because you still have a winger in front of you down that side of the pitch.
"In this system, it's just you out there on your own, but I enjoyed it. You know it's down to you. The gaffer knows that the attacking side comes naturally to me and I'm capable of doing the defensive side as well.
"The good thing is that with their being a third centre-half there is someone covering in behind you. It was Warren [Burrell] on Tuesday night and I know he's a good defender, so that gives me the confidence to just worry about my own role."
While Town came under some serious pressure at Bradford and relied on goalkeeper Mark Oxley to pull off four important saves, there was however a greater intensity about their defensive work, something which Fallowfield says bodes well.
"I thought we defended quite well. They still had some chances, but you're never going to stop everything," he continued.
"Ox made some big saves, but apart from the one from the header, they were from shots from around the edge of the box or outside it. A lot of their threat came from a long throw-in.
"Bradford's goal, you can't do much about it. We've won the first ball from the throw and headed it out of the box and their lad has hit it first-time from about 25 yards out. It's just a really good strike.
"I thought that Will [Smith] was coming through their strikers and winning pretty much everything in the air. Shez [Nathan Sheron] was throwing himself in front of the ball to make blocks and some big tackles. Pagey [Lewis Page] down the opposite side to me, he had another good game.
"As a back-six including Ox I thought we did alright in that game and it is about continuing to try and show the solidity we had at Bradford, staying switched on and cutting out the mistakes because we know that we are going to score goals when we go forwards."
Kick-off at Holker Street on Saturday afternoon is at 3pm.