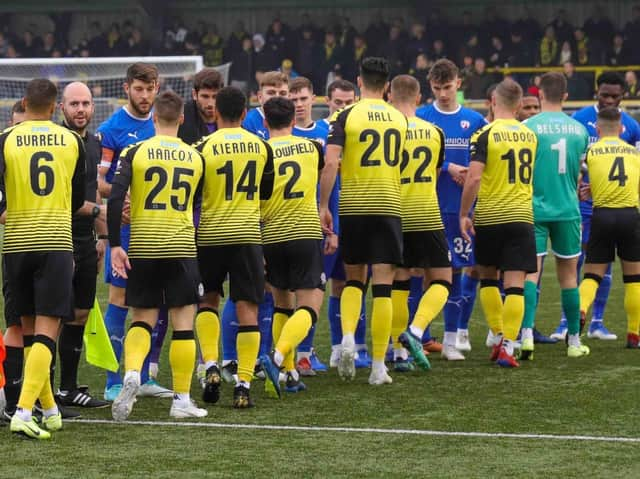 Harrogate Town's players are marked out of 10 by the Harrogate Advertiser after every match. Picture: Matt Kirkham
With 10 matches of the 2019/20 season completed, we worked out the average score for each squad member, based on our marks out of 10.
Managers usually say that the 10-game mark is the time to start worrying about what the league table looks like.
With that in mind, it seemed a good point to take stock of where Town were at that stage.
Back then, in early September, Simon Weaver's team sat 17th in the table having won three, drawn two and lost five of their opening 10 National League fixtures.
Leading the way at that stage was Lincoln City-loanee Alex Bradley with an average rating of 7.50. He had however played just twice.
Of the squad members who had been featuring on a more regular basis, goalkeeper James Belshaw and winger Brendan Kiernan were the top performers, both scoring 7.10.
Now, with 35 matches played this term, we''ve done the same again.
Plenty has changed. Indeed, Town currently find themselves second in the table and have been in much better form, thus the majority of players' average ratings have increased.
One of the things that has remained the same is the fact that Belshaw is still one of the club's highest-performers.
He now leads the way with a rating of 7.30 following an another extremely consistent season between the sticks.
Just behind him is centre-half Connor Hall, someone who has just got better and better as the campaign has progressed.
This is reflected in the fact that he has gone from a score of 6.80 after 10 games, to 7.22 after 35.
Currently third in our rankings is captain Josh Falkingham, the man who pulls the strings in the Town midfield and consistently delivers quality performances.
Please note: All players start each game on a rating of 6.0 and their mark out of 10 goes up or down depending on how they perform.
Harrogate Town average ratings 2019/20 season
Average rating after 10 matches of 2019/20 = 7.10
Average rating after 35 matches = 7.30