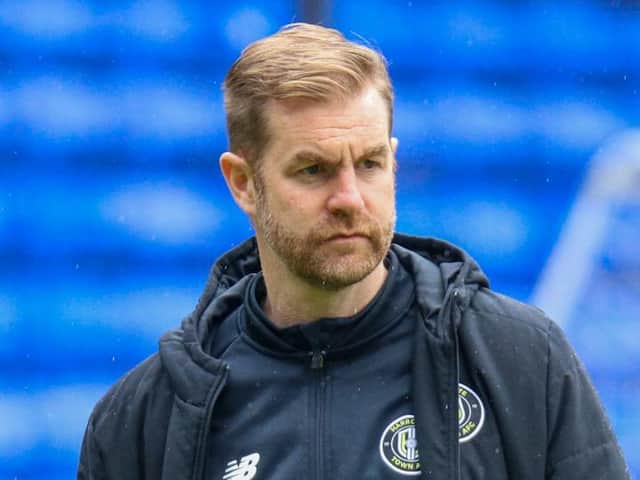 Harrogate Town chief Simon Weaver. Picture: Matt Kirkham
The Sulphurites tackle Concord Rangers at Wembley and, just as was the case when they won the National League play-off final under the famous arch back in August, the match will take place behind closed doors due to Covid-19 restrictions.
Not that Town will require any additional motivation when they run out at the home of football, but Weaver says that the injustice the club feels regarding its supporters being denied a Wembley trip for the second time in nine months is certain to drive his team on.
"It is such a shame for the fans. We desperately wanted them with us, particularly after they missed out last time," he said.
"To have a second opportunity to go to Wembley with their team taken away is just cruel, so we have to do the business for them.
"Make no mistake. We want to win this game. We are determined to win the FA Trophy, it is a massive occasion and another historic moment for the club. We really want it, but I think it will mean that little bit more to be able to give the supporters that success given the circumstances.
"Just as was the case before our play-off final against Notts County, we've drilled the message into the players and we are desperate to be able to come back up the A1 to Harrogate next week flying the flag for our club."
Town know what it takes to succeed on the Wembley turf having beaten Notts County 3-1 there back in August, and Weaver says that the prospect of repeating such an experience is mouth-watering.
"We're all so excited and looking forward to it. It is a special feeling, that's for sure," he added.
"I feel like a kid at Christmas. The Wembley experience is just breath-taking.
"I never made it during my own playing career and I feel so lucky to have a group of players who have got me there twice now."
Essex-based Concord play their football in National League South, meaning that they will arrive at Wembley having gone almost three months without a competitive fixture due to the suspension then abandonment of the 2020-21 non-league season below the fifth tier.