What Stray guardians think of repairs delay and progress so far
Poor weather conditions have forced further delays to repairs on the mud-ravaged, Stray in Harrogate but the precious parklands' guardians say progress is happening.
Thursday, 21st November 2019, 2:55 pm
Updated
Thursday, 21st November 2019, 2:58 pm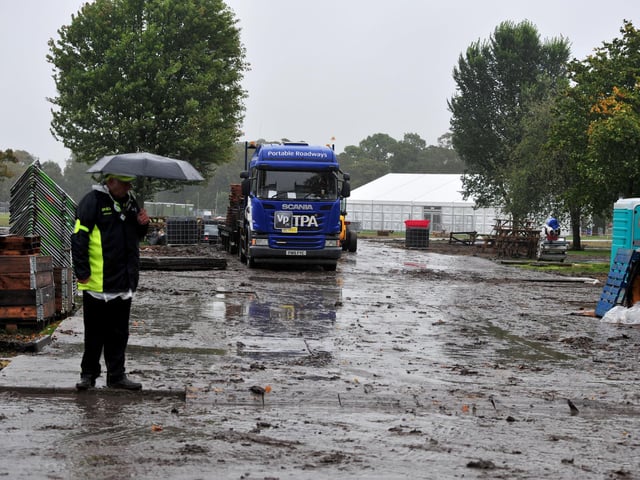 Part of the mess in the Fan Zone at West Park before the Stray was handed back from the UCI cycling championship organisers to Harrogate Borough Council.
Heavy rainfall in the last week has meant that Harrogate Borough Council's hopes of starting the process of removing fencing round the Stray at West Park this week at least have been dashed.
As a result, the public footpaths running across the parkland remain closed, forcing pedestrians to make the long walk round the perimeter on the pavement which skirts the area.
So waterlogged is the Stray in this area, and, in places, foul smelling, exacerbated by one of the wettest autumns and early winters in recent decades, the council is also considering additional drainage work.
The Stray Defence Association's Judy D'Arcy Thompson said the group was in regular contact with the council and the parkland's guardians, the Duchy of Lancaster, which was sending someone to visit the Stray this week.
She said: "We have spoken with Harrogate Borough Council and they are trying extremely hard to sort out the numerous issues involved.
"Amongst many things they are tendering for the drainage issues by the Prince of Wales to be sorted out and are also doing their best to open paths where possible.
"As much as possible is being done to rectify the damage to our Stray given the extremely difficult circumstances.
"As the mud on West Park Stray is still very deep, in some places knee deep in others less, it is too dangerous to open up to the public.
"We have heard from the Ministry and a representative of the Duchy of Lancaster is visiting this week to see the situation for themselves."
Public opinion in Harrogate is divided on the damage created on the Stray by a combination of hosting the Fan Zone during the UCI cycling championships, with some saying it was only a matter of the grass growing back but Harrogate Borough Council is aware of the pressure it is under to restore the Stray to its former glory.
Although initial forecasts that the Heras fencing neareste to the Fan Zone's VIP area was going to be removed this week turned out to be wrong, a spokesperson for Harrogate Borough Council said the plan was now to take it down in the middle of next week.